Roman Reigns Says The Bloodline Story Will Continue To Get Deeper Following WWE WrestleMania 39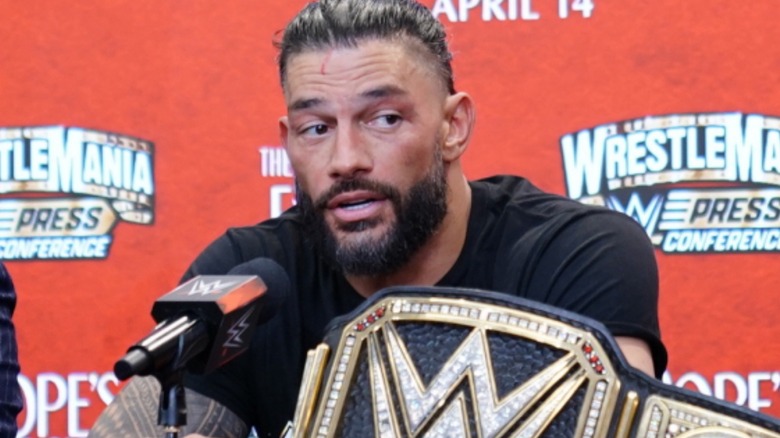 WWE
Following WrestleMania 39, Roman Reigns remains atop the WWE mountain. After crushing fans' belief that challenger Cody Rhodes would "finish his story" and capture the Undisputed WWE Universal Championship, Reigns walked out of WrestleMania 39 still the champ, seemingly on his way to hitting the 1000-day milestone for his reign. And while some were disappointed in the finish, expecting the fall of The Bloodline, Reigns spelled it out during the post-Night Two press conference. He's just getting warmed up. 
"If this is baseball, we're just in the third inning here," Reigns explained. "There's so much left to do, we've said it for a long time, we're just scratching the surface. I told y'all — it had to be a month after we came back in 2020 at SummerSlam — we're going to change the whole game."
To expand on his point, Reigns was emphatic in sharing the knowledge that he and everyone else involved in The Bloodline business are fully committed to long-term storytelling on this front. "We're not going to follow suit, we're not going to run it like TikTok and YouTube Shorts. We're going to have to expand you people, open up your attention span. You're going to have to pay attention for longer than 20 seconds y'all," he continued, "because that's what we're doing. We're out here making filet mignon. This isn't McDonald's, this isn't Burger King, and it's not fast food. We're giving you the good stuff. And I meant it and kept my word."
In his own presser, WWE Chief Content Officer Triple H shared some of the rationale behind the creative decisions made to close out WrestleMania, stating that "the story never ends" in this company and will continue to play out during tonight's "WWE Raw" and beyond. Where he sees this particular angle going — and for how long — remains a mystery, but for anyone expecting things to be wrapped up last night with a neat little bow, that's not the vision in WWE.