Becky Lynch Nears The Finishing Stages Of Book She's Written The Last Couple Of Years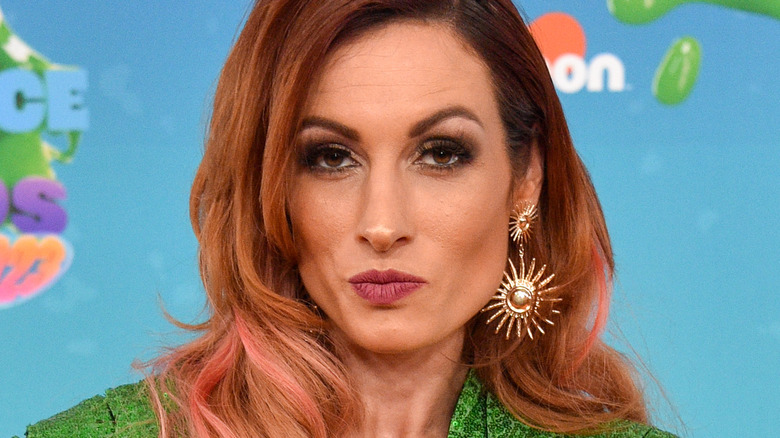 Gregg Deguire/Getty Images
WWE Superstars captivate their audiences with the compelling narratives that they tell in the ring. But sometimes, their real-life stories are just as fascinating as the characters they portray or the storylines they're involved in every week on "Raw" or "Smackdown." So despite not being the first place to look for your favorite wrestlers, the tales of legendary competitors like Mick Foley, Chris Jericho, Madusa, and Bryan Danielson can be found at your local bookstore in their very own memoirs. And Becky Lynch will soon be occupying shelf space right along with them. While speaking to Stephen A. Smith ahead of this year's Wrestlemania, Lynch revealed that she's in the final stages of completing her first book about her life and career. "The Man" told Smith that it's currently in the publisher's possession after she had been slowly working on it over the past few years.
"I finished it, so now we're in the editing process," she said. "I've done it very slowly over maybe a year or two. [But] you start overthinking. It's funny because you start to change [things up], so then you're going back. So I need to stop. [Luckily,] it's with the editor."
The current co-holder of the WWE Women's Tag Team Championships also shared that one of the more difficult things about the process was discussing "some of the stuff that you're embarrassed about or you're ashamed about putting that on the paper." By revealing such intimate and honest details, she hopes to show her fans and readers that "Big Time Becks" is human too. Though no official details have been announced yet, Lynch said in an interview with "Upfront With Kate Hannon" that the autobiography is tentatively titled "The Man: Not Your Average Girl" and should be set to drop in 2024.