Footage Suggests Seth Rollins' WWE Raw Segment May Have Been Cut During Commercial Break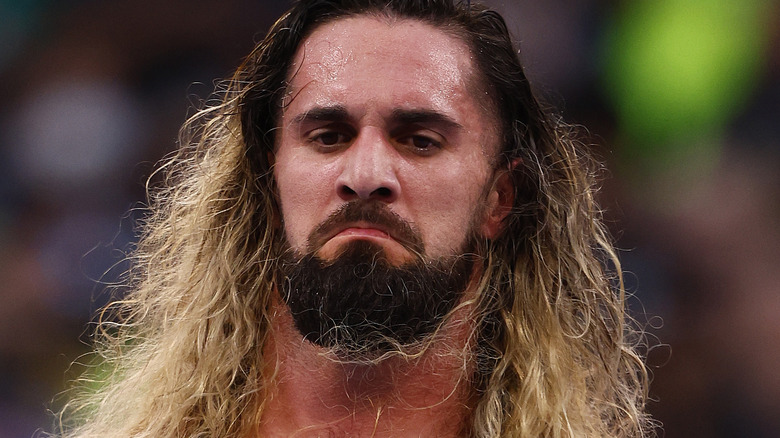 Ronald Martinez/Getty Images
The "WWE Raw" after WrestleMania episode did not go as originally planned. Fightful previously reported that Vince McMahon was present and involved in the creative process as there were several rewrites mere minutes before the show hit the air. This was evident by two women's matches being scrapped and the Omos vs. Elias match being added in comparison to the original lineup that leaked. PWInsider also noted that McMahon became "more and more involved" throughout the night — something he reportedly hasn't done on-site since his supposed retirement in July.
Another possible instance of the show being changed on the fly came in the form of Seth Rollins' mysterious appearance in the ring to bask in the audience singing his theme song before he returned to the back. Since then, a fan clip has circulated on Twitter showing Rollins in the ring during a commercial break talking to a couple members of production. Rollins had his hands up expressively during their conversation before he took a microphone and waited for the cameras to start rolling again. No outlet has yet confirmed that his segment was cut short, but the video backs up speculation.
Nothing confirmed but Seth Rollins' segment may have been changed when he was in the ring. pic.twitter.com/AaSEf5AjO4

— Wrestling News (@WrestlingNewsCo) April 4, 2023
Rollins was victorious at WrestleMania 39 on Saturday when he defeated Logan Paul in singles competition. Paul's friend and business partner KSI was involved in the bout, but that did not hinder the former WWE Champion. Paul did not appear on "Raw" as he claimed his WWE contract was up following WWE's two-day extravaganza in Hollywood. It also remains to be seen what is next for Rollins moving forward.