Logan Paul Reflects On WrestleMania 39 Loss To Seth Rollins And The Expiration Of His WWE Contract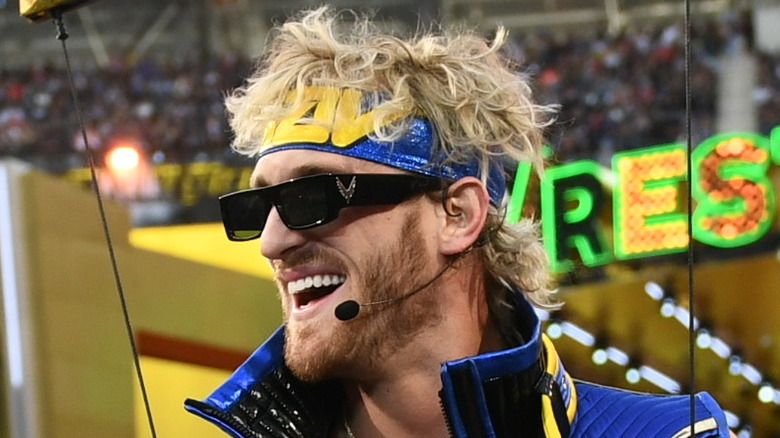 WWE
According to Paul "Triple H" Levesque, and many members of the WWE Universe, the WrestleMania 39 Night 1 match between Logan Paul and Seth Rollins was "f***ing awesome."
After sharing the text he received from Levesque last night, Logan Paul spoke with WWE's backstage interviewer Cathy Kelley about the contest itself, which saw a mix of high-flying action, hard-hitting offense, and of course, Paul's friend — English YouTuber and rapper — KSI. Despite Paul's added backup, Seth Rollins was the one who emerged victorious, delivering a mid-air superkick before following up with his signature stomp to secure the pinfall.
Though he lost the match, Paul admitted he felt fairly satisfied with his performance last night, which happened to also fall on his 28th birthday. "I don't even care if I lost," Paul said. "At one point I thought this was the worst birthday ever. It was a moment in time where I ended my rookie year on an embarrassing loss to Seth Rollins in front of 80,000 people at SoFi Stadium. I accidentally frog-splashed my business partner and friend KSI through the table, and I currently have no job because my contract ended. So, it's not ideal, but I'm feeling actually pretty good right now."
As Paul alluded to, his contract with WWE has officially come to an end. Right now, it's unknown if either party has initiated negotiations to potentially re-sign the social media personality. While his WWE future is uncertain, Paul did reveal where he'd be headed next. "I'm going to Dave and Buster's," he said. "I love Dave and Buster's. My power card is full of points. Me, I'm saving up for a drone."