Kip Sabian Reveals News Of Tragic Pregnancy Shared With Penelope Ford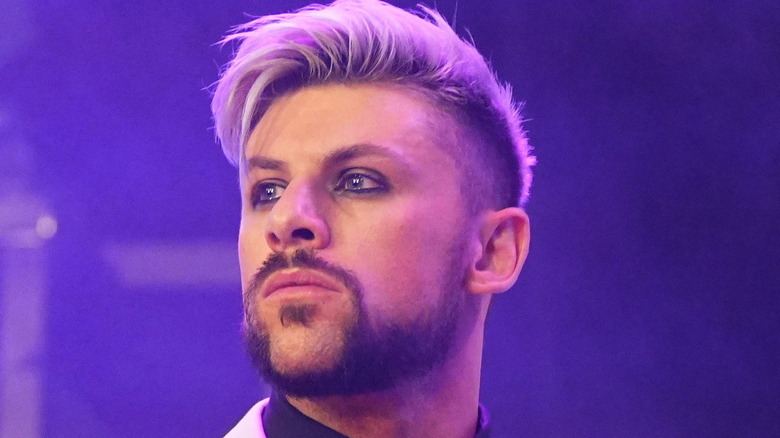 AEW
"By the time that we drop this episode [news about Penelope Ford's miscarriage] will already be out," Kip Sabian began on the latest  "AEW Unrestricted." Sabian, referring to Penelope by her real name, Olivia, said that when she first got pregnant, it came at a time when Sabian felt frustrated with his lack of TV exposure.
"I was in a pretty bad place at that point ... and then me and Olivia got pregnant," Sabian said. "It was like a light in this situation but we were very nervous about it. I will go into details about this situation but we finally go in to talk to Tony [Khan] and the only one that knows was Doc [Sampson]." According to Sabian, Khan was as excited for their news as he is on camera welcoming a new talent. "He had pages in his hand. He threw the papers and just came over and was so excited and he was like 'whatever you need, however long you need, we will support you,'" Sabian gushed. "And we were like 'weight, lifted.' Unfortunately for us, about ten weeks or so, we lost the baby."
According to Sabian, the miscarriage occurred on the way to an AEW TV taping, and he called AEW referee Bryce Remsburg to tell him they wouldn't be making the show. "The hardest part of it was not the fact that I'm sitting here going 'man I was ready to be a dad,'" Sabian recounted, noting that he'd prepared to be a father for three months. "[The worry] was 'I am so worried for Olivia right now,' because it wasn't just the fact that we lost the baby ... I had no idea how common it was. You hear about it but I had no idea that one in four pregnancies end in a miscarriage."
Sabian and Ford used AEW to cope with their loss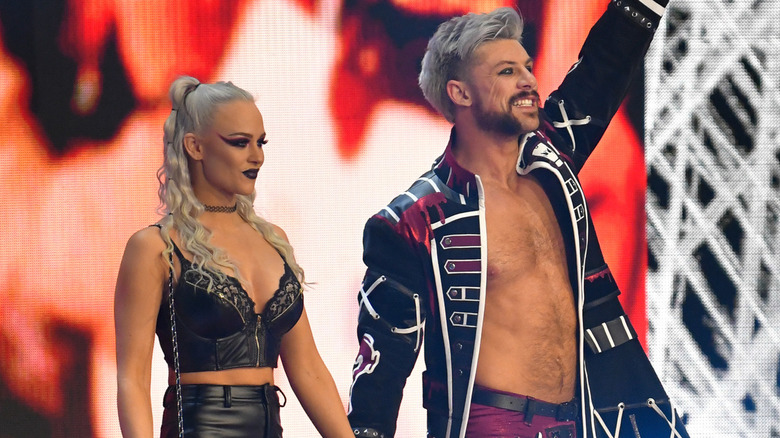 AEW
Sabian says that after the miscarriage, he and Ford found out that friends had suffered the same tragic outcome, with Sabian noting shock at "the amount of people that have said to me 'oh yeah we had three [miscarriages] before we had our first' and I had no idea." Sabian hopes that miscarriage can become a less "taboo topic" in conversation.
"I feel like people should know that it's common," he explained, "you're not alone, because that was the hardest thing for Olivia as well is she felt alone in it, like why is this happening to me and it's not happening to other people? But then she's managed to find other people that have been through the same situations and that kinda helped us a bit." Sabian said he channeled the trauma of the miscarriage into his "crazy" character, made even more potent by his frustrations at not being on TV.
"I needed something as an outlet and that's when I really put everything into the character," Sabian confessed. The couple asked Khan not to release what had happened, so Ford was written off TV due to an "injury," as she was not only dealing with the emotional trauma from the miscarriage, but a physical ailment as well in the form of a fibroid that grew to "the size of a cantaloupe" by the time she miscarried. "We thought we were having twins for a long time because of that [bump]." Penelope then had to have surgery to remove it. "We look at the silver lining which is — in my mind — this fibroid has always been there," Sabian concluded. From his perspective, his and Ford's baby "sacrificed" itself to help the couple discover her fibroid, "so when we get pregnant again in the future, complications are gone."
If you use any quotes from this article, please credit "AEW Unrestricted" with a h/t to Wrestling Inc. for the transcription.