Logan Paul Says He Doesn't Know How He's Going To Keep Raising The Bar Following WrestleMania 39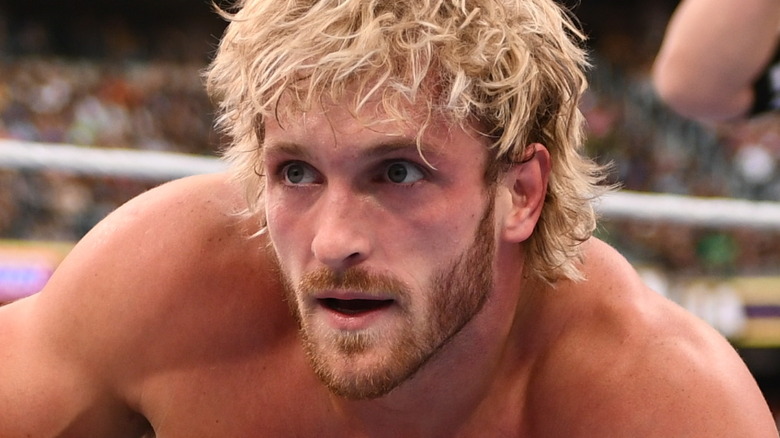 WWE
Regardless of how you may feel about him and his work outside of professional wrestling, it's hard to deny that Logan Paul is pretty good at being a WWE superstar. In his four matches (five, if you include the 2023 Royal Rumble match), the internet sensation created memorable moments and preformed daring feats of athleticism for the WWE Universe. Sure, he still has some work to do to be considered a "good wrestler," but he's well on his way thanks to a solid foundation.
As he progresses on his journey in the squared circle, however, Paul is discovering the difficulties of raising the bar. On a recent episode of his podcast "ImPAULsive," he discussed the challenges he faces every time he agrees to step in the ring.
"I noticed it's getting harder and harder every time to make these matches better," said the influencer. "When I'm picking an opponent and I'm at the bottom of this mountain trying to build what I want to be an amazing [and] entertaining match, these mountains are getting higher and higher. It's terrifying and incredibly complicated. I don't know how I'm gonna keep doing this and upping the bar every time. That's like my challenge in this, but it's so much fun because I'm gonna have to get more creative. I'm gonna have to go a little harder. I gotta go bigger."
Together with his panel, Paul ruminated on the next thing that could top his zipline entrance at Wrestlemania 39. Paul mentioned that he loves flying, so cage matches and going as high as he can possibly go were brought up as possible next steps. But no matter what he decides to do next during his next WWE appearance, "The Maverick" (in his words) is aiming "to be the biggest entertainer in the world."