Logan Paul Had Impossible Goal Of Being WWE, UFC, And Boxing Champion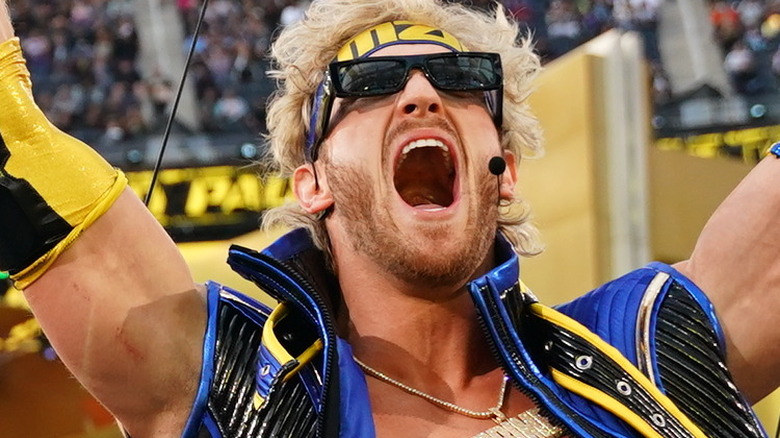 WWE
Despite a loss to Seth "Freakin" Rollins at WrestleMania last weekend, Logan Paul proved many of his critics wrong by delivering yet another fantastic performance in the squared circle. 
Not only can he be entertaining and create memorable moments, but Paul can also execute moves fairly competently and string them together to form a pretty solid match. Even his brief appearance at this year's Royal Rumble was something that stood out to the WWE Universe. However, after leaving his mark on professional wrestling and boxing, he has his sights set on mixed martial arts next.
In an interview with "BT Sport," Paul revealed that he has spoken to UFC President Dana White about fighting for the MMA organization one day. Nothing concrete has come from those talks since White isn't sure how serious the "Impaulsive" host is about it. Although, if Paul had his way, he'd have a championship belt in each combat sport.
"There was a part of me that really wanted to become a WWE Champion, a UFC champion, and a boxing champion," he declared. "That feels impossible and it'll probably never be done ever. But if I just decided to, like really decided to, something tells me I could probably do it ... What are we chasing here? The answer would be legacy, so how important is that to me to ... be remembered forever if I became a triple champ in three different industries?"
Paul, who reportedly completed his WWE commitments, also stated that he "wrestled and did jujitsu for four years," so he's not entirely ill-equipped. With that "secret sauce" of his and the recent news of UFC parent company Endeavor acquiring WWE to form a new entity, the fighter may be one step closer to his wish.