It's Really Important To Logan Paul That He Gives Wrestling Fans What They Paid For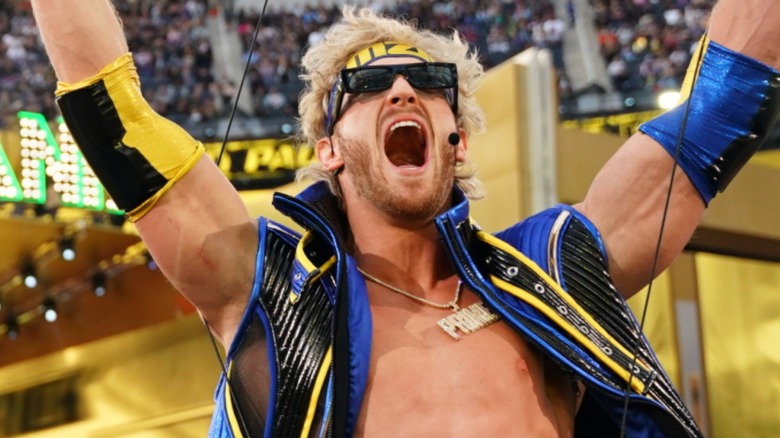 WWE
Leading up to his match against Seth Rollins at WrestleMania 39 this past weekend, Logan Paul has been more open about his mindset when it comes to professional wrestling than he ever has. In a recent interview on "Ariel Helwani Meets," the social media star-turned-pro wrestler spoke about his confidence in the ring and touched on what goes through his mind when he's in the heat of the moment during a match.
"I always just want it to be over," Paul said, admitting to having nerves about making sure his matches go smoothly. "As much as I try to really live in those super special moments of extreme heat or [when I'm] mid-air, I'm not able to do that yet. I'm thinking about everything and I just want to make sure that I deliver. I have my own expectations for myself," he continued. "And I fully know that I can do it, but I got to chill out. I got to make sure these people get what they paid for; it's my job."
In singles competition, Paul – whose contract with WWE reportedly expired this week – has gone 1-2 across his young career. After debuting in a tag match at WrestleMania 38, the 28-year-old defeated The Miz one-on-one at last year's SummerSlam before being granted a title shot against the Undisputed WWE Universal Champion Roman Reigns at Crown Jewel in November. Paul lost to Reigns but earned the respect of fans and wrestlers alike for his work in the ring. 
The YouTuber was equally praised for Saturday's match with Rollins, which again ended in defeat. Though Paul's time with WWE appears to be over for now, the social media star did recently refer to this past year as his "rookie year."