Dolph Ziggler Really Wanted The Opportunity To Be Kurt Angle's Retirement Match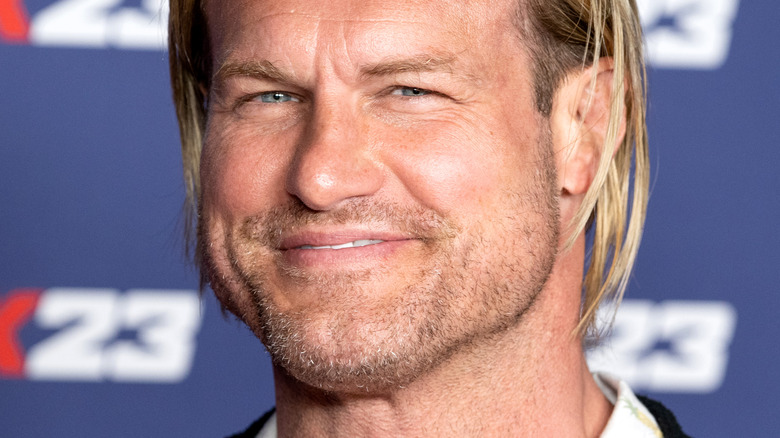 Amanda Edwards/Getty Images
Dolph Ziggler has been with WWE in some capacity since the mid-2000s, wrestling under his current name since 2008. He's wrestled many luminaries over the years and been party to many notable feuds, but during a recent interview on "Comedy Store Wrestling," Ziggler revealed there was one particular match he especially wanted to have.
When Baron Corbin's retirement match against Angle at WrestleMania 35 was mentioned, Ziggler said "I was so jealous about that." Ziggler has great admiration for Angle, crediting him for having a spot in WWE at all, and he fantasized about getting that bout at WrestleMania.
"They didn't tell us who was going to do it 'til a couple weeks out," said Ziggler, "and I was like, 'man, are they finally going to give me a singles match at WrestleMania and I get to be in the ring with my friggin' hero Kurt Angle? The reason I have a job in wrestling, because I came in at 5'11, 180 lbs is because Kurt Angle was doing so well that they gave me a shot. That's it. He was so good that I got a tryout."
Ziggler didn't care if he won or lost or even if he retired Angle, and reiterated his jealousy over not getting the call. The choice of Corbin to retire Angle was contentious, with many hoping for John Cena to face the man who began his main roster career. Angle himself wanted to wrestle Cena, but has also called Corbin the right decision given the timing of their program.
Dolph Ziggler finally got his first singles match at WrestleMania 36, losing to Otis in front of an empty crowd due to the pandemic.
If you use any quotes from this article, please credit "Comedy Store Wrestling" with an h/t to Wrestling Inc. for the transcription.