Steve 'Skinner' Keirn Explains Why CM Punk Wrote The Opening To His Book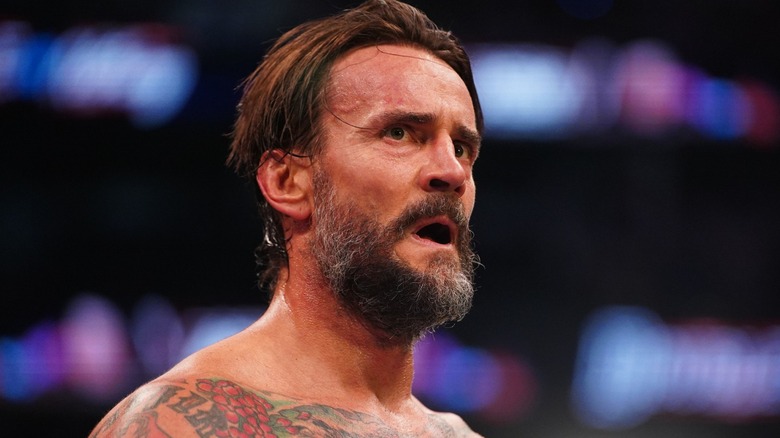 AEW
Amidst all the speculation about whether CM Punk could potentially return to the AEW locker room after what transpired at All Out, Punk himself planted a veiled seedling of an idea about how he might be able to bury the hatchet with The Elite. Referencing the memoir of Steve Keirn he was reading, Punk recalled a story of Koko B. Ware and Keirn squashing a previous beef in order to work together once again. That of course ratcheted up the discourse about the various conditions that could lead to Punk rejoining AEW's roster. However, what it didn't do is inform wrestling fans that Punk had written the foreword to that very Keirn book.
In an interview with the "Wrestling Epicenter" podcast, Keirn explained how that even came together. "CM Punk and I have known each other for years," he explained. "I watched him on the indies and I watched him grow and into the WWE system." 
Keirn knew that Stan Lane — his Fabulous Ones tag team partner — was an obvious choice to write the other foreword. But Punk? "I had to explain it to him ... I could have name dropped in some friends," Keirn recalled. "'Oh, he had so-and-so write the forward to get attention and say nice things about him.' Instead, I wanted someone who would write the truth and not blow it out of proportion. That is what he did."
As for how Keirn laid out the situation to Punk, he wanted brutal honesty from someone who loved wrestling. "You know me. But, you don't really know me. We didn't ride together on the road for hours, you're not as old as I am, we didn't experience some things at the same time ... I would rather have a foreword from someone who has a passion for wrestling and might have an opinion on me rather than have someone who is going to suck up to me because they have to see me all the time.'"
Keirn's book — Keirn Chronicles Volume One: The Fabulous Wrestling Life of Steve Keirn — is now available in paperback.