CM Punk Seemingly Alludes To AEW All Out Backstage Fracas In Instagram Comment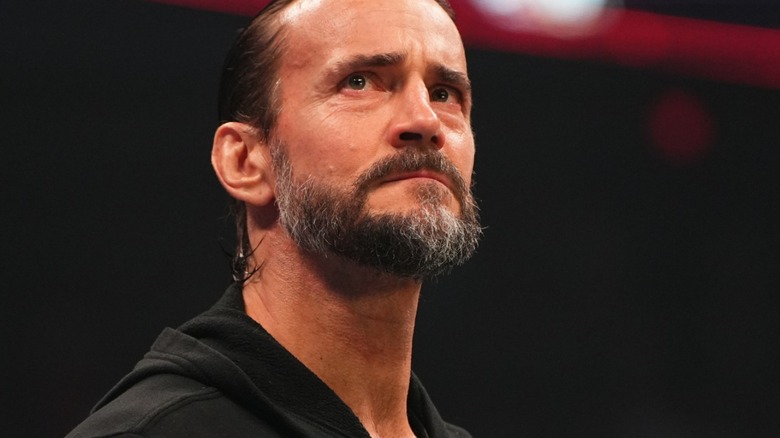 AEW
Time heals all wounds — or at least that's how the popular idiom goes. Some wrestling fans have wondered if that might be the cure to repairing the fallout in AEW from last year's All Out. While Kenny Omega and the Young Bucks have returned to the mix since then, CM Punk has remained away from the company following his heated post-show scrum and his physical altercation with The Elite that followed. However, after a lengthy period of time where no one was talking about what happened in September, the ground has been softening in recent weeks with several offering their perspective on what transpired — from Dax Harwood to Kenny Omega. Now, perhaps CM Punk is, too — sort of.
On Wednesday, Punk dropped an Instagram comment on a post by Pro Wrestling Post where he made a "fascinating" observation about something he read in wrestling veteran Steve Keirn's book, "The Keirn Chronicles Volume One: The Fabulous Wrestling Life of Steve Keirn." It may contain some parallels to the All Out situation. "Great story about Gator and Koko fighting in the locker room and then [Jerry] Lawler drags 'em in the office the next day and they squash it." Could this be a coded signal to Tony Khan and The Elite about what the next step might be in attempting to repair at least all parties' working relationship, leading to CM Punk's AEW return? Only time will tell. 
Despite all kinds of rumors about Punk and AEW going their separate ways the last few months, nothing ever materialized on that front, and CM Punk remains under contract with AEW. Tony Khan has remained evasive in comments about Punk's future with the company. Punk had just become a two-time AEW World Champion at All Out when he was stripped of the title stemming from the backstage incident. After a seven-year absence from professional wrestling, he made his return to the ring in AEW in August 2021.