Athena Takes Importance Of Black Women Representation In Wrestling Seriously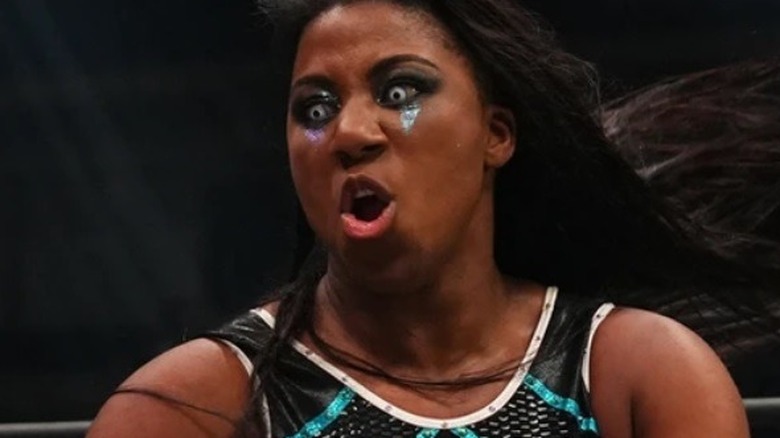 AEW
After years in the WWE ecosystem, Athena has wasted no time fitting in with both AEW and Ring of Honor, capturing the ROH Women's Championship back in December, and arguably having the most dominant reign in the history of the title. 
Just as importantly though, she became the first-ever African American woman to hold the championship, under both its current and past Women of Honor incarnation. In an appearance on "The Sessions with Renee Paquette," Athena talked about her role in representing black women in wrestling and how things have changed from when she first started out.
"I remember I was on the indies and it was just like, there was one black woman per state it seemed like," Athena said. "And it very much so seemed like, 'Alright. We've got our token black girl here. We're good guys.' "And I remember going to other states and being like, 'Oh, we booked you because you're really talented and you're African American, and we're looking to bring in more people from that.' That was a thing. It's not something I really liked, but it paid the bills or whatever."
Athena noted she started to look back on who was her representation when she started watching, realizing it was limited to Jacqueline, Jazz, and a few others. Today, she feels the representation has grown significantly.
"You see Bianca Belair, Mercedes Mone, Trinity, myself, Kayden Carter," Athena said. "You see all of these women ... Willow Nightingale, Trish Adora, Queen Aminata. We are powerful, we are strong, and we are not going to be denied any longer. It's not a marketing thing anymore, it's a, 'Hey, if you're good, you're good, and you deserve to be there.'"
If you use any of the quotes in this article, please credit "The Sessions with Renee Paquette" and provide a h/t to Wrestling Inc. for the transcription