Jim Ross Explains Why Cody Rhodes Losing At WrestleMania 39 Was The Right Call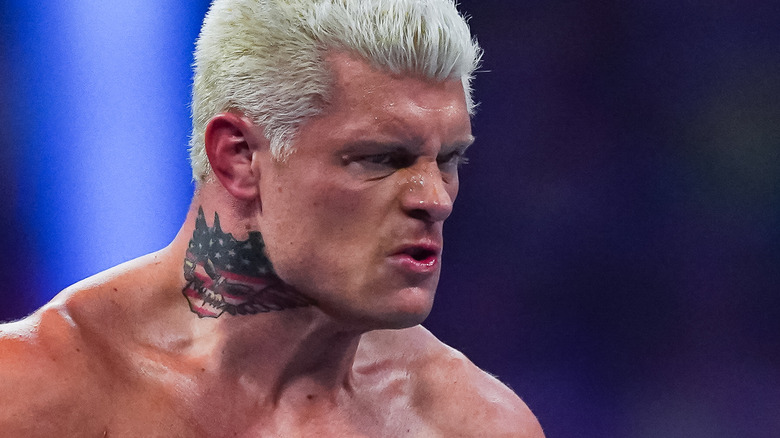 Alex Bierens De Haan/Getty Images
Even over a week removed from WWE WrestleMania 39, it continues to be debated whether it was the right call for Cody Rhodes to lose his awaited WWE Universal Championship match. It appears WWE is playing the long game with the story as Rhodes has now pivoted to a feud with Brock Lesnar. In the meantime, though, there's plenty of reason to believe fans will eventually see Rhodes challenge Roman Reigns again. During a recent episode of "Grilling JR," Jim Ross weighed in with his opinion.
"I like the longer story, to be honest with you," Ross said. "It really doesn't have anything to do with Cody as much as it does with storytelling. The chase that he can embark upon, if done properly, can be extremely successful for Cody and WWE."
Ross added that he would've liked to have seen Rhodes win the world title for his own "edification," but he does like the fact that "The American Nightmare" will earn it in the future. He doesn't see Rhodes losing at WrestleMania 39 as a disaster as he believes all roads will lead back to a rematch, potentially at WrestleMania 40.
"I understand the disappointment. I'm not criticizing it whatsoever," Ross added. "I just think that this long-term arc to get him back to the promised land is the way to go. It's good storytelling, especially for a company that produces five hours of big-time live television a week... They need stories that have a direction and a purpose and a reason, and there's certainly plenty of reason to promote the eventual return match."
If you use any quotes from this article, please credit "Grilling JR" with a h/t to Wrestling Inc. for the transcription.