Rey Mysterio Discusses His Addiction To Painkillers And The Help He Received From WWE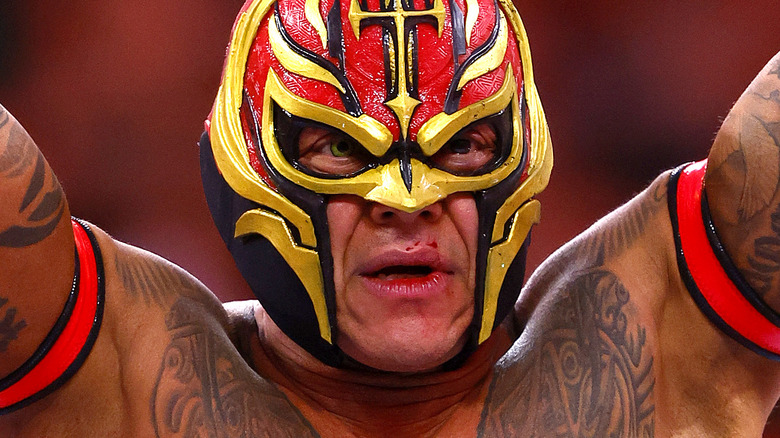 Ronald Martinez/Getty Images
No matter what you do in life, it's important to have a support system comprising friends and family to have your back. For Rey Mysterio, the most important part of his network since the very first day he stepped in a ring was his wife, Angie. 
As he shared in his WWE Hall of Fame induction speech, she has been with him through all the monumental highs and disheartening lows. Though his recent achievements have shined a spotlight on the good parts of his career, the legendary luchador recently discussed the darker times as well.
During an appearance on Logan Paul's "imPAULsive" podcast, Mysterio opened up about being addicted to painkillers at one point in his WWE run. It started with the medication that his doctors prescribed after his many surgeries, but soon the habit became more troubling.
"My wife caught me," he said. "One time when we were on vacation, she saw that I was just out of it completely. So she gave me an ultimatum. She goes, 'When we get back home, you can either take your pills or you can take your family. You choose.' That really opened me up and it made me a stronger person. I remember [after] getting back home to San Diego, [I] flew to TV the next day, spoke to Vince [McMahon], and I told him I need to check myself in [to rehab]. I need some time off. He was cool with it. He was like, 'It takes a man to own up to what you're doing.'"
Rehab and how he dealt with future injuries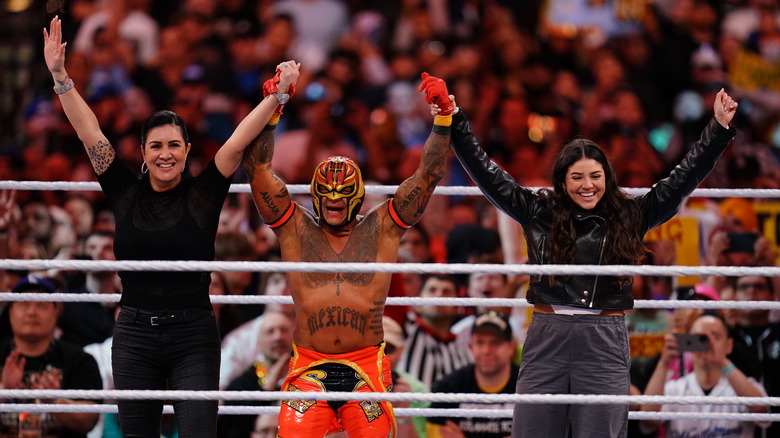 WWE
With the help of his wife, the blessing of the WWE, and a 30-day stint in rehab, Rey Mysterio was able to re-evaluate his life and move forward with "a different perspective of life and appreciation of family." Ultimately, once he worked hard to get through it, he found this phase of his life extremely valuable since he "learned so much of what not to do."
This ended up coming in handy about three years later. Mysterio said that a match with Alberto Del Rio in San Diego aggravated his ACL and MCL injuries so badly that his knee was "dangling by one thread" and required two holes to be drilled to remedy the issue. Even after experiencing what he called "the worst pain I've ever felt from the surgeries that I've had in the past," he refused to take any painkillers following the procedure. 
But after seeing her husband in such excruciating pain, Angie worked out a system with him where she was controlling his dosage.
The hosts thanked Mysterio for sharing this story that had not been told many times, if at all. By sharing these experiences of hard times, they pointed out that the fan-favorite wrestler may have helped out fans struggling with similar issues who look to him for strength and inspiration, which makes him one hell of a role model, apart from being the greatest masked wrestler of all time.