Santos Escobar Reflects On Emotional Meaning Of Trading Masks With Rey Mysterio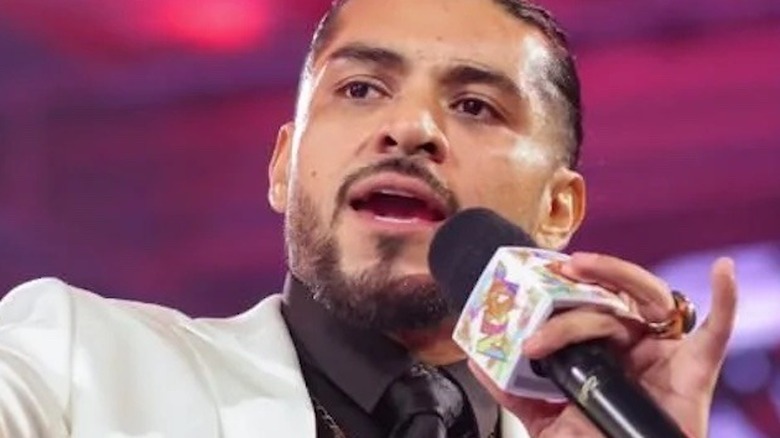 WWE
This year has been a particularly emotional one for Santos Escobar but in the best ways possible. After declaring that he and Legado Del Fantasma were going to dethrone Rey Mysterio as the pinnacle of lucha libre in WWE back in his NXT days, the former NXT Cruiserweight Champion changed his tune when he faced the "Master of the 619" in a match on "WWE Smackdown." 
After that, Escobar found a new level of respect for the legendary luchador. That immense respect was reciprocated by Mysterio, who gifted his mask to the LDF leader. While appearing on a recent episode of "The Bump," Escobar looked back on this great honor. "To me, it's a very romantic story," he said. 
"When I got here, I wanted to take what was his. His legacy, his star. [But] if you want to know someone, fight them. [After that,] we clicked and I realized that what I really had for him was respect and admiration. That's why I [gave him a mask]. I've only done this for three people in my life: [LA Park, my father,] and now the third person, Rey Mysterio," said Escobar. 
"That's huge, that's big. But for him to give me his mask is even bigger. It shows me the respect that he has for me because, as you know, respect is not given."
"The Emperor of Lucha Libre" reiterated that he values tradition, heritage, and culture above all else. With lucha masks so deeply rooted in those areas of his life, the Latino World Order member expressed that he would never forgive Dominik Mysterio for ripping up the mask that Rey gave him.
As emotional as the initial gesture made him, it seems like Escobar will find even more satisfaction when he and the LWO finally get revenge for this disrespect.