Renee Paquette Believes It Makes More Sense For Her To Have Joined AEW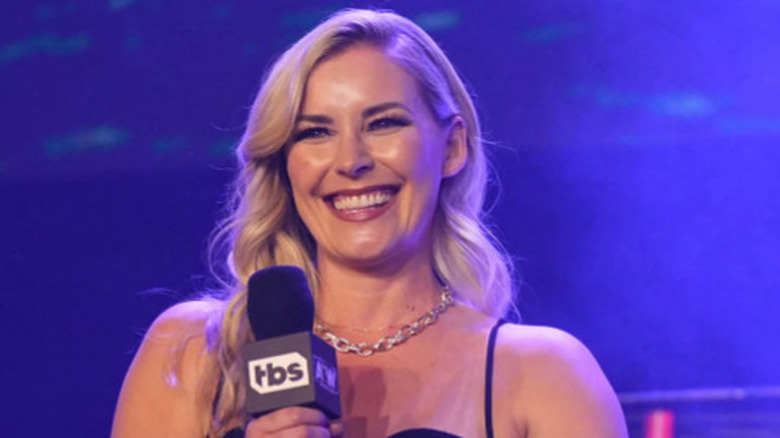 AEW
Joining AEW was something that just made sense for Renee Paquette. The broadcaster opened up recently about her return to wrestling last year on "Insight with Chris Van Vliet." Paquette explained AEW made sense because it was not only where her husband Jon Moxley works as a wrestler, but the promotion was also an exciting new chapter she wanted "to be a part of" in its early years.
"And not only be a part of it as a broadcaster and kind of lend my experience in that world, but also as a producer to a degree," Paquette said. Paquette was a familiar face in WWE from 2012 until 2020, before she took time away from the company after the birth of her daughter Nora. She continued to host her weekly "Sessions" podcast, which features interviews with people from throughout the wrestling business. But she explained that after the allure of working from home wore off, she "sort of needed to get out of the house" and "needed to get back to being me." And that meant returning to television.
"I had been having preliminary conversations with WWE about maybe going back there and just maybe doing pay-per-views or some specials," she said. "And then you know, it really kind of dawned on both me and Jon that we're like, man, this is where it's going to go and this is what we're going to do, of course it makes more sense for me to be in AEW and just to kind of see all the things that AEW had to offer us — not only being on the road with my husband, but to be a part of this like young, upstart, fun, really kind of changing up the whole scene of pro wrestling."
If you use any of the quotes in this article, please credit "Insight with Chris Van Vliet" with an h/t to Wrestling Inc. for the transcription.