Xavier Woods Makes Case To Face Roman Reigns, Says He Ended The Tribal Chief's Win Streak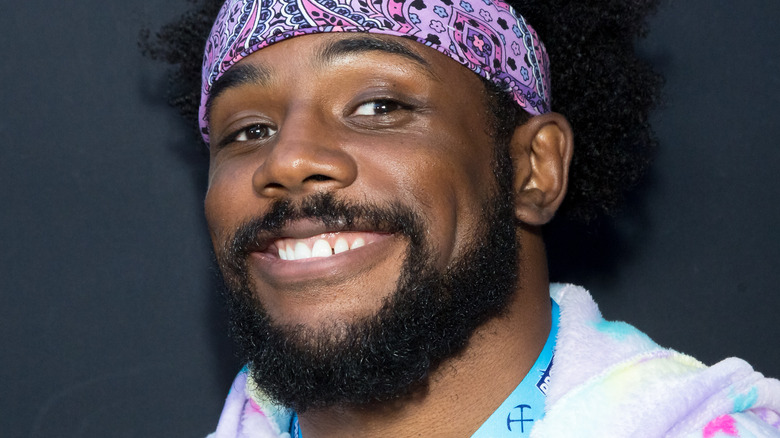 Greg Doherty/Getty Images
Following his loss to Baron Corbin at TLC in 2019, Roman Reigns bounced back with a hefty two-year winning streak, on television at least. Upon Reigns' disqualification loss to Seth Rollins at Royal Rumble 2022, many believed "The Visionary" had snapped Reigns' victorious run, but as it turns out, that moment had simply overshadowed a no-contest result that occurred two months earlier. On the November 12, 2021 edition of "WWE SmackDown," Xavier Woods stepped up to Reigns in a Championship Contender match. Woods seemed destined for a win, but The Usos had a different agenda. As Woods tried to pin Reigns, Jimmy and Jey pulled him out of the ring and unleashed an assault, causing the referee to stop the match. Commentator Michael Cole said Reigns would be disqualified, but WWE officially ruled the bout a no-contest.
Regardless, Reigns did not walk out the victor, and for that, Woods believes he's owed another match with the Undisputed WWE Universal Champion. Speaking with "WhatCulture Wrestling," Woods made his pitch to face Reigns. "I'm the first man to break Roman Reigns' two-year winning streak, but we just don't talk about it. Why? Tell me why. I don't understand why we don't talk about this ... I'm fighting tooth and nail to get any kind of respectable match in my wheelhouse," he said.
While some of his fellow competitors were granted a title shot by "coming in off the streets" and "say[ing] 'I want to be champion,'" Woods continues to make moves in and outside of the wrestling ring. And now, Woods appears ready to elevate to the next level and square off with "The Tribal Chief" one more time. "Let Woods fight," he said. "Go hashtag it."