Matt Hardy Shares Concerns That Existed Backstage With Jeff Hardy Being WWE Champion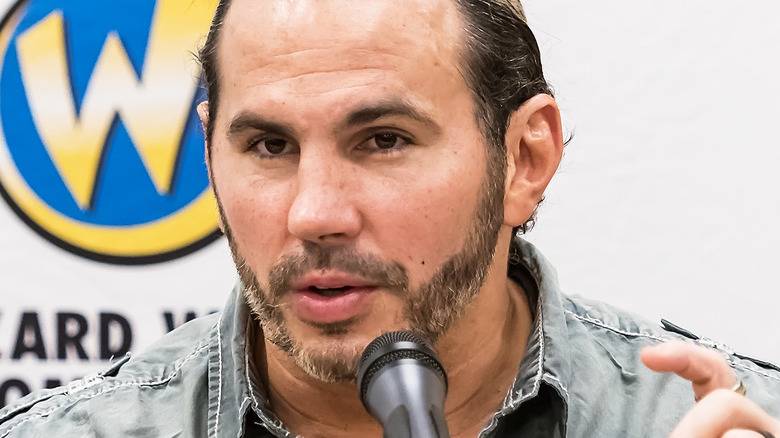 Gilbert Carrasquillo/Getty Images
Jeff Hardy's run as a singles star in WWE throughout the late 2000s was perhaps the peak of his popularity throughout his near 30 years as a professional wrestler. Despite this, each of his three world championship reigns in the company were remarkably short-lived, leading some to question if his personal struggles played a role in his push around that time. 
When it comes to Jeff's first and only run with the WWE Championship that began at Armageddon 2008, Matt Hardy believes this might've been the case.
In a recent episode of "The Extreme Life of Matt Hardy," the elder Hardy brother spoke about costing his brother the WWE Championship at the 2009 Royal Rumble, limiting his reign as champion to merely 42 days. While Matt was content with turning on his brother at that event, he says there were tentative plans for Jeff's reign to last longer than it did. "People were loving him," Matt recalled Jeff's reception as WWE champion. "Some were pitching to delay the turn to WrestleMania [25]."
Matt went on to reveal that some wanted him to turn heel on his brother in the main event of WrestleMania, but others, namely Triple H, were hesitant about entrusting Jeff with a title reign of that length. "Vince [McMahon] was open to it ... but there were some people who probably were worried about Jeff having too long of a run," Matt admitted.
The two current AEW stars ultimately had the fourth slot at WrestleMania 25, facing off in an Extreme Rules match, while Triple H went on to main event the show. However, Matt doesn't blame Triple H for pushing for Jeff's reign to be cut short at the Royal Rumble. "I get where Hunter was coming from ... especially with some of the stuff Jeff did," the older Hardy conceded.