Jim Ross Comments On Cannabis Use, Says He'd Rather Wrestlers Smoke Pot Than Pop Pills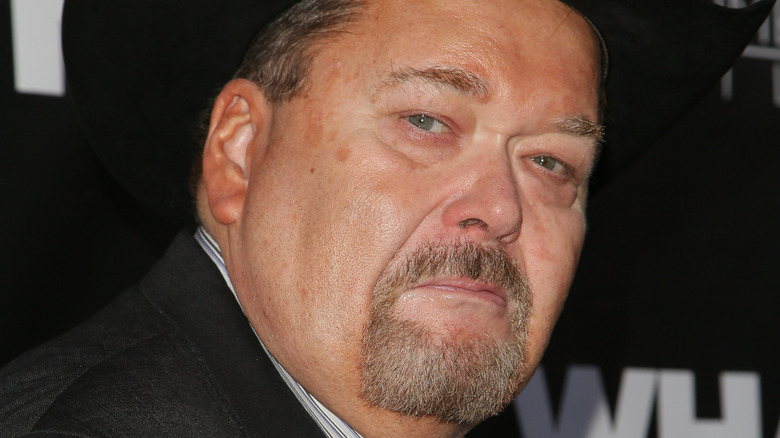 Chelsea Lauren/Getty Images
According to AEW commentator Jim Ross, it's a lot more preferable to see wrestlers consume cannabis compared to the alternative, which usually ends up being the abuse of prescription pills. During the latest episode of his podcast, "Grilling JR," which appropriately focused on Rob Van Dam, Ross spoke about the use of cannabis in wrestling, both during his time with WWE and today in AEW.
"There were a lot of guys in [WWE] smoking a little weed," Ross said, discussing the company's hesitance to push Van Dam in the early 2000s following the "Invasion" storyline. "There's a lot worse things that we can do with our lives than smoke pot." Ross stated that people have learned a lot more about cannabis in recent years, including various medicinal qualities, and shared his belief that it's perfectly okay for wrestlers to use it as long as they're not heading to the ring while under the influence. Ross shared that, while then-WWE CEO Vince McMahon was against the consumption of cannabis at the time, McMahon eventually began to look at things differently as more information came out regarding the substance and its possible benefits.
"I'd rather somebody toke a little bit, as opposed to taking the pills," Ross continued, citing the use of Ambien, Xanax, and muscle relaxers in wrestling. "Marijuana, after you compare it to all those other things, doesn't seem like such a bad thing after all." The AEW commentator then said he wasn't sure what the current policy on cannabis is in WWE or at AEW, but stated it's never been a problem to his knowledge in his current company. Ross is involved in a cannabis venture with his family, and shared that they're currently set to open up their first dispensary in the near future.
If you or anyone you know needs help with addiction issues, help is available. Visit the Substance Abuse and Mental Health Services Administration website or contact SAMHSA's National Helpline at 1-800-662-HELP (4357).