Steve Austin Explains Why He Couldn't Commit To WWE WrestleMania 39 Match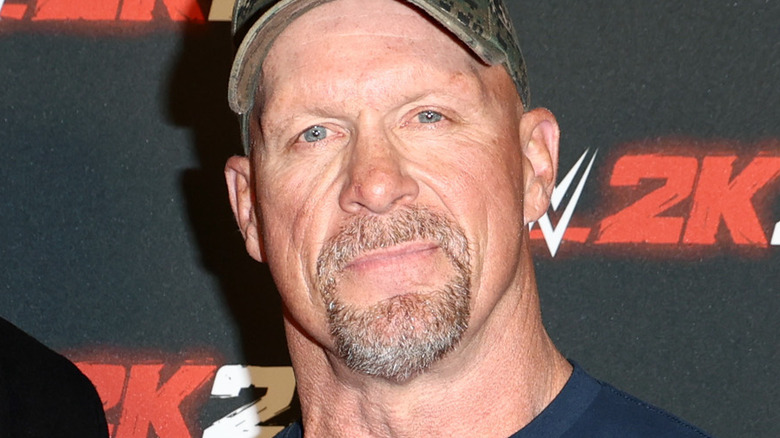 Joe Scarnici/Getty Images
"Stone Cold" Steve Austin ultimately did not appear at WrestleMania 39, but it wasn't for a lack of WWE's trying. The WWE Hall of Famer recently spoke to Sports Illustrated and revealed why he didn't have a match in Hollywood.
"I haven't spoken to this, but I'll give you the story," Austin said. "I met with some people from WWE. We talked about the possibility of me wrestling at WrestleMania 39. The biggest thing in my mind was the presentation and what kind of match it was going to be." Austin elaborated that he initially turned down coming out of retirement for his WrestleMania 38 match against Kevin Owens several times until he approved of the creative direction. He didn't want it to be a "constructed" match, but rather one that came together in the moment.
While he didn't touch on any of the pitched WrestleMania 39 opponents that reportedly ranged from Roman Reigns to Brock Lesnar to LA Knight, Austin revealed that his production schedule was the main reason why he couldn't commit to another match.
"But to do a proper match, I'd have to be in off-the-charts shape," Austin explained. "I told them, and this is the exact truth, I said, 'Guys, I'm just fixin' to go into production on this show, 'Stone Cold Takes on America,' and until we start production, I don't know what my life looks like. I can't commit.' Sure enough, there were technical issues before we finished."
Production for Austin's new A&E reality show finished a month behind schedule. On top of that, he didn't believe there was a viable way for him to properly get in ring shape while driving an RV all over the country for several hours a day.