Kurt Angle Pays Tribute To WWE Legend Bruno Sammartino On 5th Anniversary Of His Death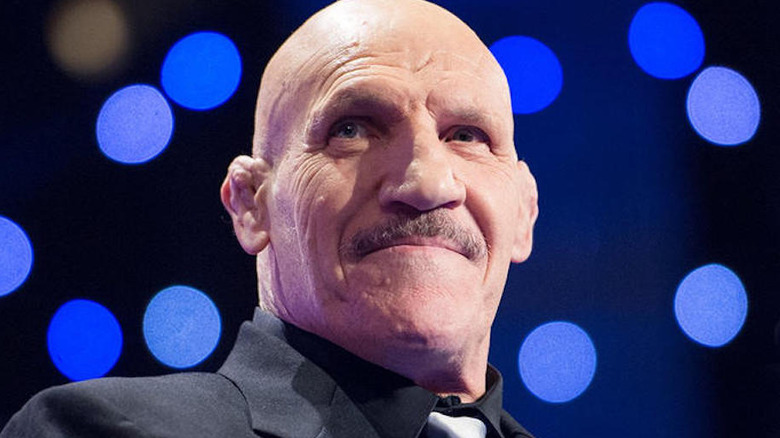 WWE
Even though he's gone, the legendary Bruno Sammartino is certainly not forgotten. And on the five-year anniversary of his death, fellow Pittsburgh, Pennsylvania native Kurt Angle is making sure that everyone remembers. As a tribute to "The Italian Strongman," Angle shared some cherished memories of the longest-reigning WWE Champion in history on his Twitter Wednesday. Showing that Sammartino's reputation propelled him beyond the world of professional wrestling, the Olympic gold medalist discussed how he knew the icon well before he became a wrestling fan.
"On this day 5 years ago, we lost one of my heroes, Pittsburgh native Bruno Sammartino," Angle wrote. "I didn't watch pro wrestling growing up, but being from Pittsburgh myself, I knew very well who he was. It wasn't until I started watching pro wrestling that I realized how great Bruno was!!!!"
To remind the former WWE and TNA Champion that he's a legend in his own right, Dave Meltzer responded to Angle with a Bruno memory of his own. Meltzer, who had the opportunity to interview Sammartino a number of times, revealed that there was mutual respect between two of Pittsburgh's favorite sons.
"Bruno thought similar about you," Meltzer wrote in a retweet. "He was very proud a wrestler from Pittsburgh won an Olympic gold medal even before you got into pro wrestling, and spoke very highly of you after you got into wrestling."
Whether it be for his historic title reign, his many sellouts at Madison Square Garden, or his staunch opposition to steroid use and vulgar storylines in WWE under the leadership of Vincent K. McMahon, Bruno Sammartino and the impact he left on pro wrestling during his life will not be forgotten any time soon.