Matt Hardy Says Upcoming AEW Firm Deletion Match 'Isn't Going To Be Fantastical'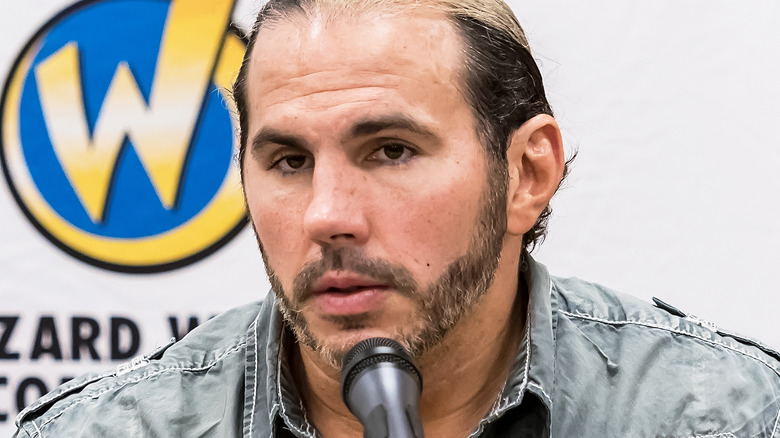 Gilbert Carrasquillo/Getty Images
No one has done more for the "cinematic match" than Matt Hardy, and he's returning to the genre that reignited his career with the upcoming Firm Deletion.
"I think you're going to get to see all of the classic House Hardy family members there during this match," Hardy said on "The Extreme Life of Matt Hardy." "You're going to get to see the baby Hardy Boyz. You're going to see Queen Rebecca. I'm sure you'll see Señor Benjamin, and I would imagine there would also be a cameo from Gothic Baby."
Hardy even noted that it will be the pro wrestling debut of Gothic Baby, who has become a sensation on social media. Another of Hardy's children, Maxel, has had his own heated exchange with Stokely Hathaway on social media.
"I think it's going to be extremely entertaining," Hardy said on a separate "Extreme Life" episode. "It's going to be very different. This one isn't going to be fantastical like some of the older ones have, but it is gonna be incredibly amazing and I think it's so cool that we have these eight competitors to play around with and interact with."
Matt Hardy is fighting to win his freedom from The Firm, and he's planning to win. He says that there are already ideas for where The Hardys can go after The Firm Deletion, noting that Jeff Hardy being back by his side means that they will be back in the tag division. Jeff returned to AEW on a recent episode of "Dynamite," having completed rehab after a suspension following a DUI arrest in June of last year.
If you use any of the quotes in this article, please credit "The Extreme Life of Matt Hardy" with an h/t to Wrestling Inc. for the transcription.