Big E Says Hosting WWE Backlash In Puerto Rico Isn't Just A Paycheck For Bad Bunny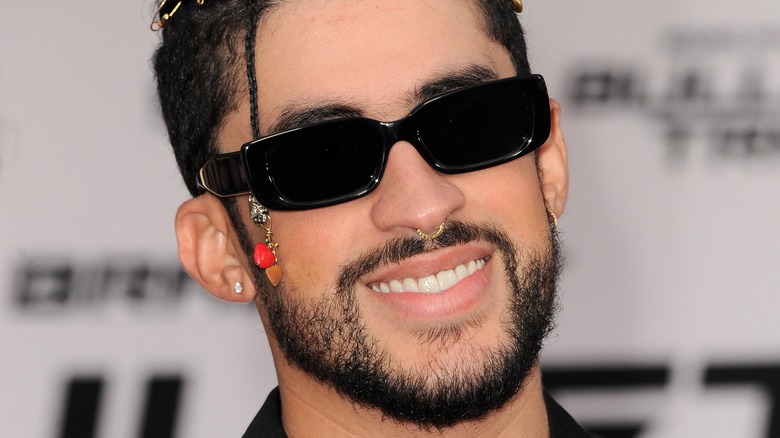 Tinseltown/Shutterstock
Celebrities making a one-off appearance on a major WWE show can often rub fans –- and members of the locker room –- the wrong way. But music superstar Bad Bunny's WWE cameos have earned the respect of the company's full-time professional wrestlers, according to former world champion Big E.
During a recent appearance on the "Battleground Podcast," Big E opened up about Bad Bunny's appearances in WWE in recent years, including his upcoming role as the host of the promotion's Backlash event in Puerto Rico next month.
"I'm not knocking any celebrity who comes in, takes a paycheck, and does what they're asked, that's fine. But you can tell with him, it's so much more than that," Big E said about Bad Bunny. "He's a guy who truly loves this. I think pro wrestling was his first love and grew up watching WWE. For me, it's so dope and amazing to see someone like him, who is a massive, massive star, and comes in so humbly and so energetically to do what we do."
Bad Bunny made his WWE debut at WrestleMania 37 in 2021, teaming up with Damien Priest to take on The Miz and John Morrison in a tag match. The musician and Priest came out on top in a 15-minute bout that received critical praise from around the professional wrestling world. The Puerto Rican pop star then returned in 2022, making a surprise entrance in the men's Royal Rumble match.
"He's come in and worked incredibly hard and his passion for this," Big E said. "I saw an interview, I think it was for Carpool Karaoke, where he said the WrestleMania match, I think he described it as 'the best day of his life.'"