Saraya Threatens Tony Khan's Physical Well-Being If He Leaves Her Off AEW All In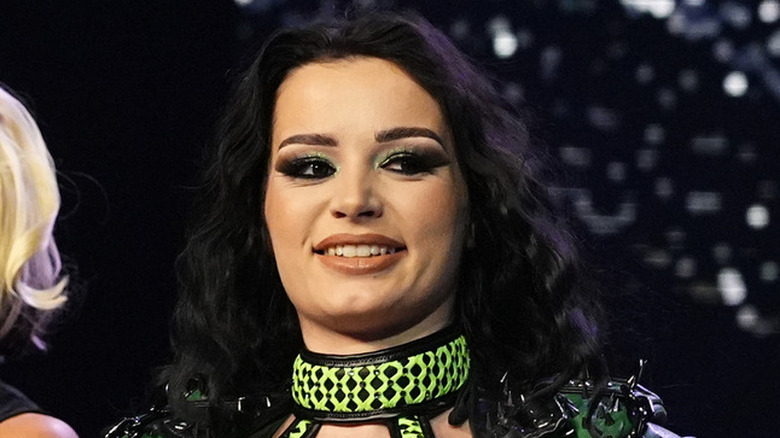 AEW
Woman after woman have been on the receiving end of The Outcasts' green spray paint since the villainous faction began running roughshod over AEW's roster in recent months. And AEW owner Tony Khan might be next if the group is kept off its marquee All In event later this summer, Saraya has warned. The AEW star opened up about All In, scheduled to take place at Wembley Stadium on August 27, telling Metro UK that she's expecting to be on the event's card.
"I feel so fortunate to think that — hopefully I'm on the show!" Saraya said, before sending a tongue-in-cheek warning to the company's owner if she's not included. "Tony, I'll hunt you down. I know where you work, I'll beat your ass! I'll kick everyone's ass." Setting jokes aside, Saraya then appeared to get real when she suggested that if The Outcasts are on the card, that also means they'll go up against multiple women in a match, therefore meaning more female wrestlers get the opportunity to appear on what's shaping up to be a historic show.
"Hopefully it's a package deal with The Outcasts, and then you have people like Britt [Baker], Jamie [Hayter], all these people coming along," she told the UK outlet. AEW recently announced it would revive All In for a second edition, this time taking place in London. While the original All In pay-per-view inspired the upstart promotion's creation, the second installment will mark AEW's first pay-per-view show held outside the United States — a feat the company's stars have said highlights the substantial growth AEW has made in its first four years.