Jeff Jarrett Comments On All In At Wembley Stadium: 'What A Statement For AEW'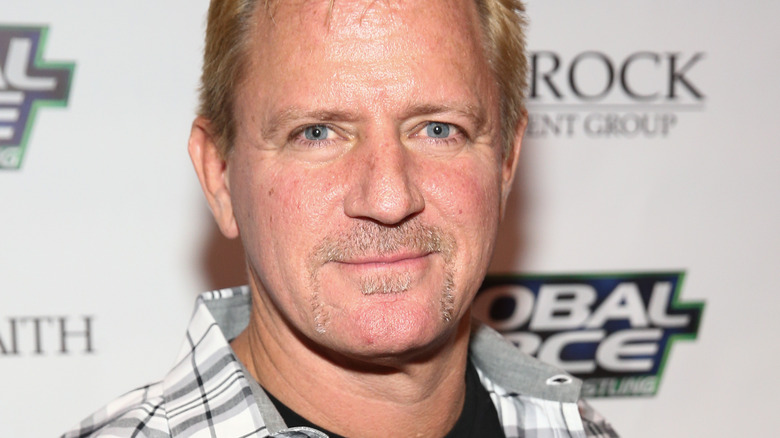 Terry Wyatt/Getty Images
AEW's 2023 is looking like a monumental calendar year for the company. Beyond recent reports that a new weekly show is coming to Saturday nights, the intrigue surrounding AEW All In at Wembley Stadium continues to grow every passing week as well. AEW's first stadium show to date, the company's debut in the United Kingdom. has the makings of being one of the biggest wrestling events all year, and according to AEW star Jeff Jarrett, it doesn't get much bigger than Wembley Stadium in the world of pro wrestling.
In a recent episode of My World with Jeff Jarrett, the wrestling legend spoke about how groundbreaking AEW All In is set to be. "My WhatsApp [blew up], and when I woke up on Thursday there was even more!" Jarrett recalled. Tony Khan announced the show on the April 5 episode of "AEW Dynamite" and left fans from the U.K. ecstatic with the news. "What a statement! I am super excited," Jarrett added.
Jarrett went on to tout the historic ramifications of AEW running Wembley Stadium, reminding listeners that it will be the first wrestling event in the legendary stadium since WWF SummerSlam 1992. "Does it get any bigger as far as stadium shows? Only four or five years in existence, what a statement [for AEW]."
Jarrett and Conrad Thompson also recalled the fact that SummerSlam 1992 took place on August 29, nearly 31 years to the day before AEW All In will take place on August 27, 2023. While SummerSlam 1992 has been called a failure by Triple H, the attendance of 80,000+ was one of the biggest in WWE history.