Huge Update On Pre-Sale Registration Numbers For AEW All In At Wembley Stadium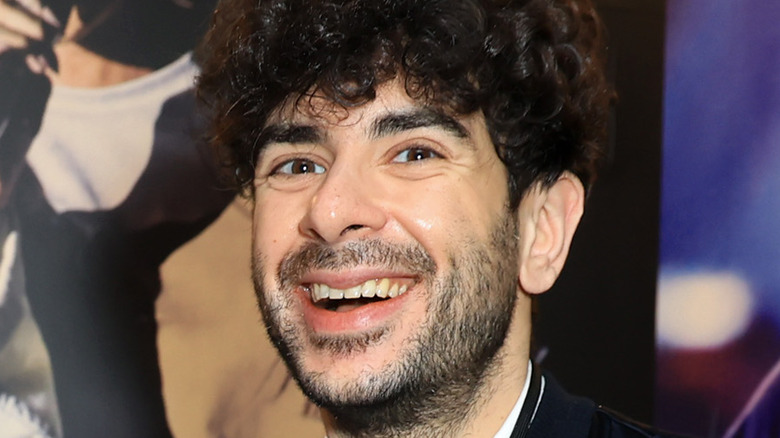 Leon Bennett/Getty Images
Though ticket sales for AEW's recently-announced All In show at Wembley Stadium in London won't begin for the general public until May 5, fans are currently able to register to receive a pre-sale code, giving them priority access to tickets starting on May 2. If the number of people who signed up for pre-sale registration is any indication, demand for the event is set to be quite high. According to PWInsider, more than 50,000 people have registered for a pre-sale code so far.
While registration for pre-sale is far from an exact indicator of ticket sales, it does show that many people are at least interested in attending the event. AEW's highest-attended show to this point is Grand Slam 2021, which had 20,177 people in attendance. That means the company only has to convert a fraction of All In pre-sale registrations into single ticket sales in order to achieve the highest live attendance in AEW's short history. With Wembley Stadium's maximum attendance capped somewhere around 90,000, certainly less than that with a wrestling setup, and nearly four months between the on-sale date and the event itself, it seems incredibly likely that All In will break AEW's attendance record.
As of now, there's no official word on any matches scheduled for the event. That hasn't stopped people from speculating or throwing out dream matches, including those within AEW. Current AEW World Tag Team Champion Dax Harwood, one-half of FTR, has put forward the idea of the duo teaming with CM Punk at All In, with their opponents being Kenny Omega and the Young Bucks. Only time will tell if that match-up comes to take place; while CM Punk is reportedly working towards an AEW return, Omega and the Young Bucks were said to not be too keen on working with the veteran.