Eva Marie Suggests Possible WWE Return Could Involve Bray Wyatt And Alexa Bliss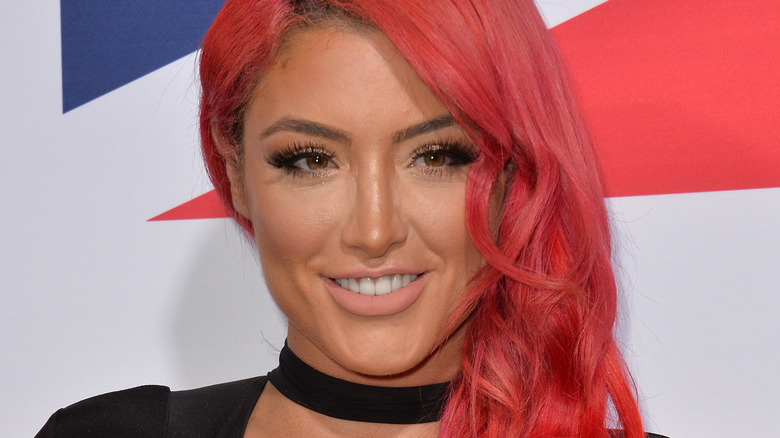 Featureflash Photo Agency/Shutterstock
No matter how you feel about her as a wrestler, it's hard to deny that former WWE Superstar and "Total Divas" star Eva Marie is a hustler. Whether it's podcasts, acting, vlogs, modeling, video games, fitness, or reality television, she has been dabbling in a number of areas outside of the squared circle and could be satisfied with solely focusing on those endeavors. However, when it comes to "The Red Queen" returning to WWE, it shouldn't be ruled out entirely.
During an interview with PWMania, Marie shared that the door to return to the promotion that made her a star is always open. In fact, she revealed that she has been in contact with them (specifically WWE Studios) lately about potential projects. Although, when it comes to actually stepping back into the ring, she feels like she has unfinished business and has a few ideas about resolving those issues.
"It's not the end of Eva Marie," she said. "I could come back with dark hair. I could have a 'dark era' [and] come back with dark hair, team up with Bray Wyatt, [and] do a little something there. That'd be kind of dope. And then also [in] my last [appearance] in 2021, I did have a little issue with Alexa Bliss. So if I come back [and maybe] have dark hair, we can run it back a little bit."
In addition to Bliss, there are other targets for "All Red Everything." Piper Niven, who went by Doudrop when they teamed together, turned on her to fly solo. Shayna Bazler also brutalized her with the steel ring stairs and put her on the shelf (ahead of her release). But regardless of how or when Eva Marie is reintroduced to the WWE Universe, it seems like the "Eva-lution" is not over.