Footage Of 'Mermaid John Cena' In Barbie Movie Shown At CinemaCon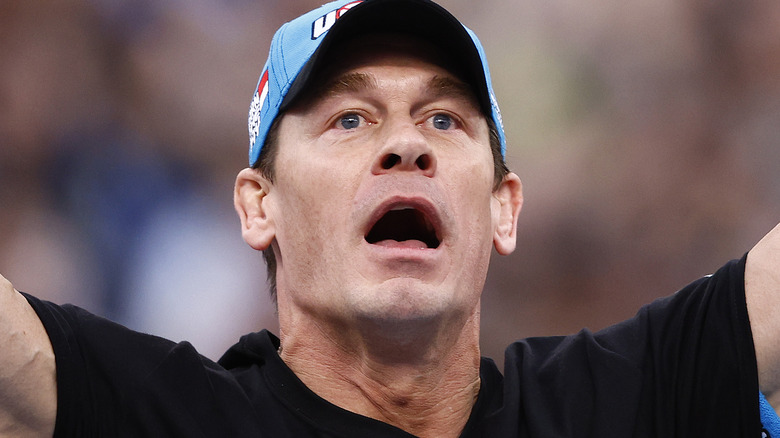 Ronald Martinez/Getty Images
As the road to the dual releases of "Oppenheimer" and "Barbie" on July 21 continues, fans of the Mattel icon have a new reason to be excited about Greta Gerwig's upcoming film. IGN is reporting that footage of "Barbie" was shown at CinemaCon and featured a "mermaid John Cena." Cena was initially announced on April 4 as the love interest of a character played by Dua Lipa, with confirmation then coming that Lipa's character was a mermaid. The news from CinemaCon appears to be the first confirmation that Cena will be a mermaid (merman?) as well.
Cena joins an already jam-packed cast that features Ryan Gosling as Ken, and Margot Robbie as the central Barbie, as well as Simu Liu of "Shang Chi & The Twelve Rings," plus "One Night In Miami's" Kingsley Ben-Adir, "Cheers" star Rhea Pearlman, and "Crystal Fairy & The Magic Cactus" star Michael Cera as Allen, Ken's friend.
Despite competing for the WWE United States Championship at WrestleMania 39, Cena has been mainly a Hollywood figure for the past several years, recently making a huge splash in the DC film "The Suicide Squad" and its spinoff series "Peacemaker" in which Cena had a star-making turn as the titular anti-hero. His losing effort to Austin Theory at WrestleMania was Cena's last match in WWE since a tag match at the end of 2022. Cena isn't completely cut off from the wrestling world, as it was recently announced he will take part in a docuseries for Roku centered around some of WWE's new recruits.