Steve Austin Says WWE Wanted Him To Face 'One Of The Top Guys In The Business' At WrestleMania 39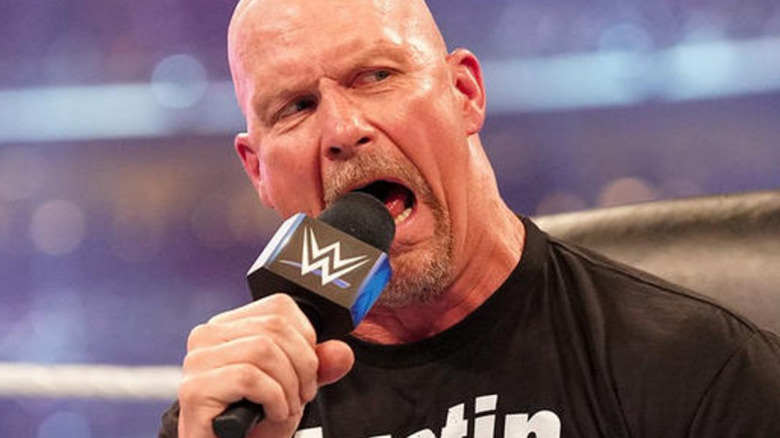 WWE
WWE legend "Stone Cold" Steve Austin has said WWE was keen on having him wrestle at WrestleMania 39, against an unnamed top star. 
Austin, in a recent interview with "WrestleRant," confirmed rumors that WWE wanted him to return to the ring for a match at this year's WrestleMania. The Hall of Famer stated that the idea was for him to face a top star in the company, but he declined the offer as he felt that he couldn't get ready in time for it.
"It was a match with one of the top guys in the business. Period. I'll let everybody speculate on that [who the opponent could've been]," revealed Austin. "It was a match and I just didn't think I could get ready for it in time because I didn't know my schedule, which is what I told them... 'I don't know what my life looks like till I finish this show.'"
Austin stated that, unlike his match at last year's 'Mania, the match at WrestleMania 39 would've been far more competitive, and he felt he didn't have the time to get in proper shape to pull it off. 
He said that being in gym shape is different from being in ring shape and he tried work-out regimes of the likes of Edge, Daniel Bryan, and Becky Lynch ahead of his return last year.
Austin hasn't ruled out a return to the ring sometime in the future but said he's not lobbying for another match. "When they approached me about working with Kevin [Owens] at 38, I turned them down several times, until we came up with that idea and we went out and did it. So, could it still happen? Yeah, it could still happen. Am I lobbying for it, am I trying to get anybody to talk about it? No, I am not," said Austin.