Taichi Wins The King Of Pro Wrestling Championship From Shingo Takagi At NJPW Satsuma No Kuni 2023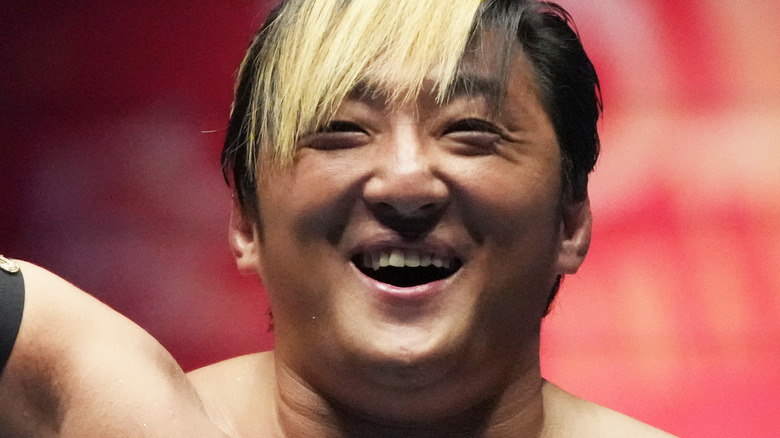 Etsuo Hara/Getty Images
Following SANADA's IWGP World Heavyweight Championship victory at New Japan Pro-Wrestling's Sakura Genesis event earlier this month, it felt as though April 2023 would go down in history as a statement-making month for Just 5 Guys. This presumption was even further proven earlier this weekend when Taichi defeated Shingo Takagi to win the King of Pro Wrestling 2023 Championship at NJPW Satsuma no Kuni 2023.
The KOPW Title is known for its unique stipulation matches, and Takagi vs. Taichi at Satsuma no Kuni was no different. The "Takagi Style Triad Match" was a version of a standard 3-out-of-5 falls match and was pitched by Shingo Takagi earlier this month. Despite it seeming like this would give Takagi the advantage, Taichi still found a way to overcome the former IWGP World Heavyweight Champion, prevailing 3-2 with two pinfalls and one stoppage via submission to win the gold.
Taichi's match with Shingo was the fourth time the two men have battled over the KOPW Title, with Taichi losing the KOPW 2022 to Takagi last April and failing to win it back on two separate occasions throughout the year. At the time, their third match at the JTO TakaTaichi 50th Anniversary Show last December felt like a definitive end to their rivalry, but SANADA's departure from Los Inogbernables De Japon in March instantly forged a war between Just 5 Guys and L.I.J., leading to the rivals meeting yet again at yesterday's event.
While the other three members of Just 5 Guys will walk into May without championship gold, two of them have a big tournament ahead of them. Yoshinobu Kanemaru and DOUKI will both take part in this year's Best of the Super Juniors 30 tournament that will take over the NJPW schedule from May 12 until May 28.