Former WWE Star Aiden English Talks 'Tug Of War' Between Triple H And Vince McMahon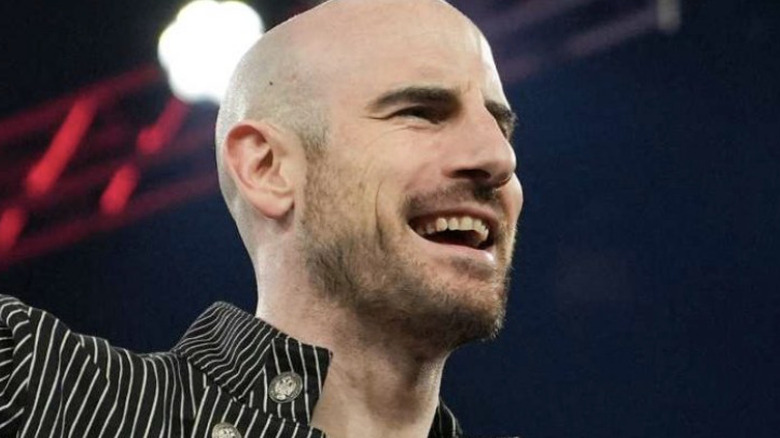 Impact Wrestling
During the "black and gold" days of "WWE NXT," several WWE superstars struggled with transitioning from "NXT" to the main roster. An act that was hot at Full Sail University or at live events didn't always garner the same reaction on "Raw" or "SmackDown," and sometimes it simply had to do with perception and presentation.
Former "NXT" Tag Team Champion Aiden English recently appeared on "Ten Count" and recalled how Triple H made it a point for his developmental talent to put the main roster on notice. "He would give us those 'rah-rah' speeches before NXT TakeOvers, and especially when we started doing them on the road, like that first Brooklyn we did before SummerSlam," English recalled, "he gave us a big speech, like the old, 'Make them follow that.'"
But when it came to those TakeOver headliners moving up to Vince McMahon's brands, it was hit or miss. English stated, "It really is a talent by talent thing. Because I don't like to do it, but I would argue we, as The Vaudevillains, had a similar thing. We got up and then, meh. That was for multiple reasons." English argued that The Vaudevillains should have had vignettes on the main roster before their debut rather than being thrown in front of a "Raw" audience without any context to who their characters were.
English also noted that Triple H had "his guys" that he wanted to protect. Likewise, he wishes more talent like Adam Cole were able to stay on "NXT" rather than go to the main roster because their characters resonated more with the "punk rock" mentality that the "NXT" audience had. English concluded, "That's where we would hear it too, just a little bit of a tug of war between Hunter and Vince."
If you use any quotes from this article, please credit "Ten Count" with a h/t to Wrestling Inc. for the transcription.