Tony Schiavone Thinks AEW All In At Wembley Could Be The Biggest Crowd He's Ever Seen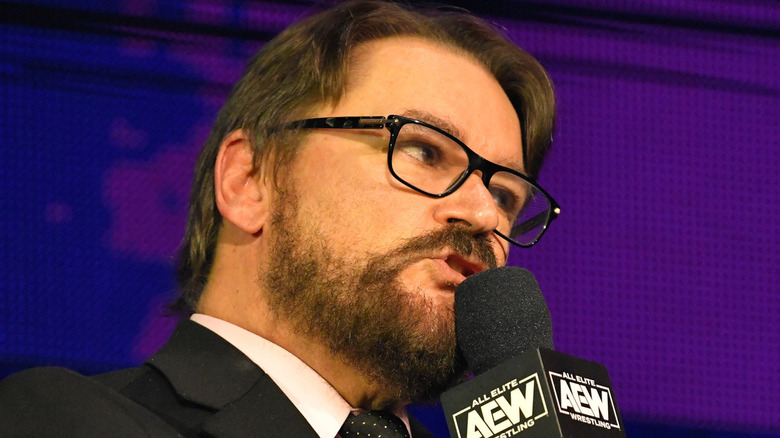 AEW
This August, AEW will head to Wembley Stadium in London, England for All In, marking the company's British debut. As the stadium has a capacity of 90,000 seats, the show has the potential to draw the company's largest crowd for an event to date. Furthermore, Tony Schiavone believes that All In could become the most attended wrestling show he's ever been a part of, even if it isn't a complete sell-out.
"I'm tempering my expectations for 90,000. We'll see what the ticket count is, you know, after Friday," Schiavone said on the latest episode of What Happened When. That said, if the show does pull in that number, it will surpass the crowd of 30,000 people who showed up to see Goldberg wrestle Hulk Hogan on an episode of "WCW Nitro" that took place in the Georgia Dome back in 1998. As of this writing, that's the largest crowd Schiavone has ever seen at a wrestling show he's worked at.
Regardless of the number of fans who attend, Schiavone claimed that it's going to be a one-of-a-kind event for AEW. "It's gonna be unlike anything AEW has ever done, and I think it's safe to say that all of us are pretty pumped about it."
As of this writing, AEW's debut British show is on track to surpass 30,000 ticket sales and then some. Recent reports have indicated that over 60,000 fans have signed up for the All In pre-sale, making it the most in-demand event that the promotion has held since All Out 2019. Additionally, AEW will seemingly open all of Wembley Stadium for the show, as indicated by a seating chart that Ticketmaster recently posted and deleted.