Eric Bischoff Calls Goldberg Retirement Tour A Bad Idea: 'Goldberg Is Not Ric Flair'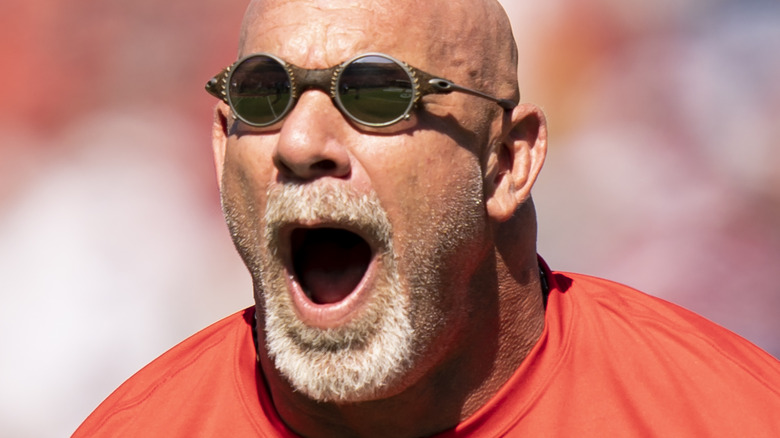 Steve Limentani/isi Photos/Getty Images
After his WWE contract came to an end the question of what's next for Goldberg has been a hot topic in the wrestling community. The idea of him going on a tour of shows has been speculated, but during his latest "83 Weeks" podcast Eric Bischoff claimed that is "a horrible idea."
Running a specific retirement match outside of a major company is something that Ric Flair was able to do successfully in 2022 with the event drawing in a big crowd and plenty of viewers around the world. That is a model Goldberg could choose to follow, but Bischoff's problem with that idea is that Goldberg simply isn't the "Nature Boy."
"There's not generations of Bill Goldberg fans out there, there are generations of Ric Flair fans out there, Ric Flair is arguably as popular today in many respects," Bischoff said. "Bill, comparatively speaking has been in the business for five minutes when you compare him to someone like Ric Flair. I hope he gets a lot of money upfront, let's just put it that way." 
Bischoff compared the idea to when Mike Tyson returned to the boxing ring for an exhibition match, admitting that even though he was a fan of the legendary boxer he wasn't interested in seeing that version of him competing. 
"I don't want to see a lesser version of Bill Goldberg get back into the ring and again, if he doesn't need the money and I can't imagine that he does, I don't know why he'd do it," Bischoff said. "I just wish he wouldn't do it. Here's the other thing, you want to be remembered for being at your peak."
If you use any quotes from this article, please credit "83 Weeks" with a H/T to Wrestling Inc. for the transcription.