See Dave Bautista As Glossu Rabban In The Latest Dune: Part Two Trailer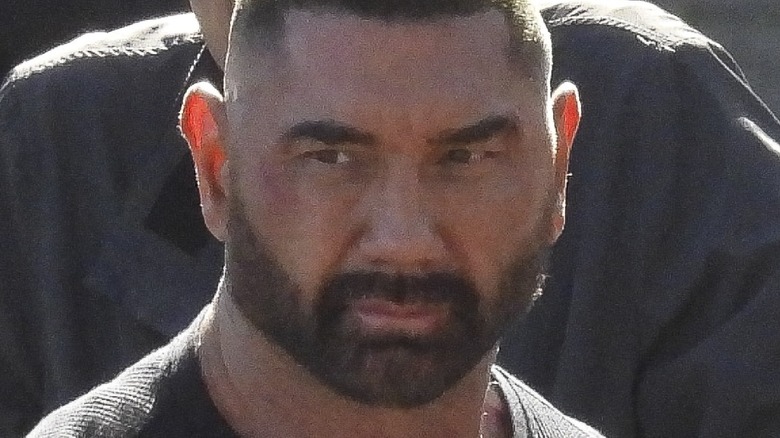 Mega/Getty Images
It's a big year for future WWE Hall of Famer Dave Bautista, starting this week with "Guardians of the Galaxy: Volume 3" being released in theaters. But a potentially even bigger film for Bautista is just on the horizon in the form of "Dune: Part Two," the sequel to the hit 2021 film "Dune," in which Bautista starred as Glossu Rabban. On Wednesday, fans got their first glimpse of the sequel, as the trailer for "Dune: Part 2" dropped. While not featured heavily, fans can catch a glimpse of Bautista as Rabban in the trailer, as well as new cast members such as Florence Pugh as Princess Irulan, Christopher Walken as Emporer Shaddam IV, and Austin Butler as Feyd-Rautha Harkonnen, Rabban's cousin.
Like its predecessor, "Dune: Part Two" is based on the famous sci-fi novel of the same name by Frank Herbert, and is the third adaption of the book following David Lynch's 1984 film and a 2000 Sci-Fi Channel mini-series. The sequel picks up where "Dune" left off, with Paul Atreides (Timothy Chalamet) and his mother, Lady Jessica, hiding in the deserts of the planet Arakkis with the Fremen, including Chani (Zendaya) and Stilgar (Javier Bardem). Atreides seeks revenge against Rabban and his uncle, Baron Harkonnen (Stellan Skarsgard), after the Harkonnens murdered Atreides' father, Leto (Oscar Isaacs) in a coup to retake Arakkis from the Atreides.
Fans will have to wait a bit, however, before they see Bautista in action in the sand once more, as "Dune: Part 2" will not be in theaters until the fall, scheduled to be released on November 3.