Booker T Pushes Back On Idea Of WWE World Heavyweight Title Being A Consolation Prize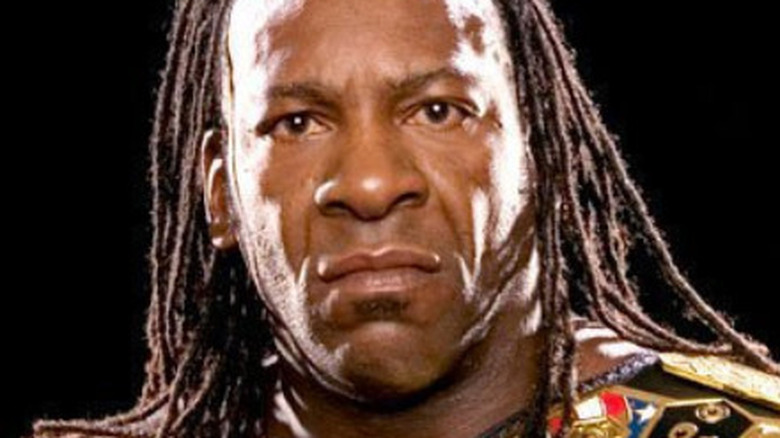 WWE
Recently, WWE CCO Paul "Triple H" Levesque announced a resurrected World Heavyweight Championship. And with Roman Reigns being drafted by "WWE SmackDown," that means this championship will be exclusive to "WWE Raw." Given his seemingly never-ending reign as the Undisputed Universal Champion though, many fans have already labeled this revived title as a consolation prize or less than, considering Reigns won't be beaten for it. Booker T, however, couldn't disagree more with that sentiment.
"I don't look at it that way," Booker said on "The Hall of Fame." "I just don't, I just can't, you know, find myself looking at the title being a secondary title or anything like that." We now know that at Night of Champions in Saudi Arabia, a new World Heavyweight Champion will be crowned. We don't know who that will be, but the picture should become a littler clearer following Backlash this Saturday. Regardless, Booker believes holding the World Heavyweight Championship carries a lot of weight, adding "I think pulling the trigger and separating the championship and making, you know, one brand, one for the other, I think that's good for everybody."
Booker, himself a former WWE World Heavyweight Champion (as King Booker), also believes that it is up to whoever becomes champion to put in the work to make a name for themselves and the title they're carrying. "People saying that this is a secondary championship, they've never been in that position where they were bestowed upon them the title of champion. World champion. That right there for a young kid in this business is something that he dreams of forever."
If you use any quotes from this article, please credit "The Hall of Fame" with a h/t to Wrestling Inc. for the transcription.