Tito Santana Compares Vince McMahon To His Father, WWWF Promoter Vince Sr.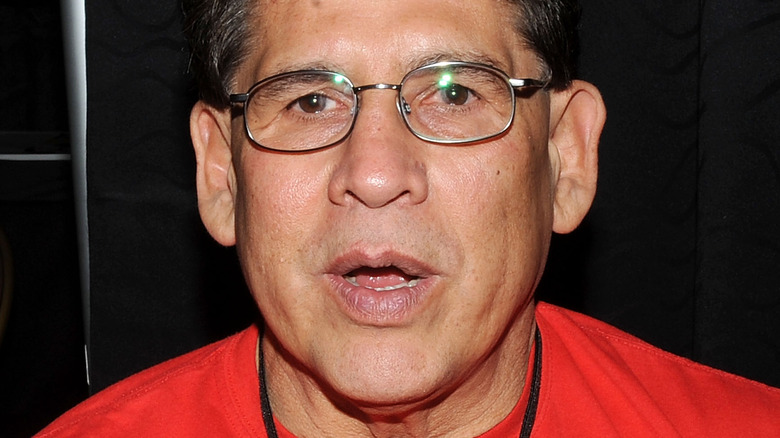 Bobby Bank/Getty Images
Of the many wrestlers who have worked in a major promotion over the years, Tito Santana may be among the most underrated. The WWE Hall of Famer built a successful career in WWE, AWA, NWA, and even briefly AAA over the course of 46 years, often as a reliable constant in the mid-card, making him one of the few wrestlers to work for both Vince McMahon and his father, Vince McMahon Sr. In an appearance on "Wrestling Then And Now," Santana compared and contrasted McMahon's Sr. and Jr., though he admitted some of the comparisons came from what he had heard, as opposed to what he experienced.
"Vince Sr. was known for being a man of his word," Santana said. "He didn't make me any promises, so I didn't have to deal with that from him, as far as him being a man of his word. But I heard all the other boys go 'Vince [Sr.] tells you something he's going to do it.' Vince [Jr.] could change his mind overnight, and there's nothing you could do. There was no talking, or changing his mind. I think Vince Jr. was more of a brutal businessman than Vince Sr., but I didn't have that much experience with Vince Sr. It's hard for me to compare."
While Santana admitted he had gone to Vince Jr. about receiving a bigger push, only to never get it, given his longevity with WWE, he's fine with how things turned out.
"I was in the WWF longer than anybody else at the time that I left," Santana said. "So it was a good career. Could I have made more money? Yes. Could I have had better positions? Yes. But it wasn't my choice."
If you use any of the quotes in this article, please credit "Wrestling Then And Now" and provide an h/t to Wrestling Inc. for the transcription