Eric Bischoff Shares His Opinion On New WWE World Heavyweight Championship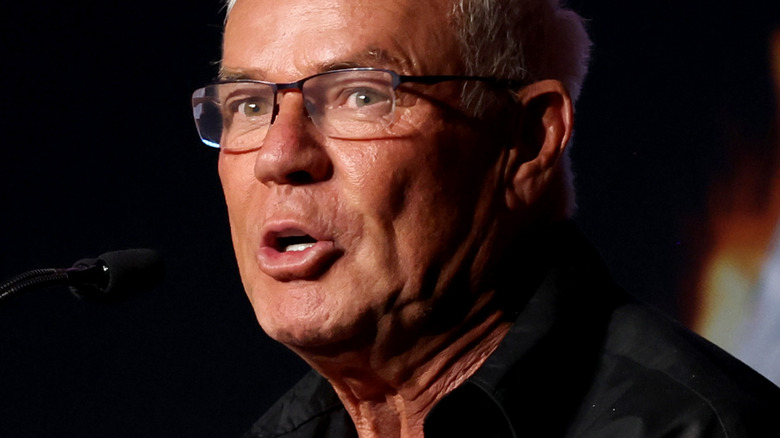 Jason Kempin/Getty Images
Eric Bischoff has many questions about WWE's new World Heavyweight Championship, and wonders if the new title helps or hurts reigning Undisputed Universal Champion Roman Reigns' status within the company. Speaking on "Strictly Business," Bischoff said while he appreciates the new title's design, he isn't sure if WWE needs another world title. 
"As for the concept, I have a few questions," Bischoff admitted. "Aesthetically, I guess I'm neutral because I have to think about it. I don't feel it. Anytime you have to think about something in professional wrestling, chances are you have already lost the audience. When I think about it, it's kinda cool, because it's the big gold belt with the big WWE logo in the center; I think it looks great. It's definitely a beautiful piece of work, as far as belts go. Beyond that, I have way more questions." Bischoff then posed a series of questions starting with a "Why?," but quickly conceded that he hasn't closely followed the WWE product recently.
"How does this new championship fit into the big picture?" asked Bischoff. "Does it mean more than the other two titles? Or does it mean less? How and where will it be defended? More importantly, why do we have this new championship?" Bischoff also questioned why Reigns can't "bounce back and forth" between the two brands as the one-and-only top male champion in WWE. Bischoff's curiosity led to co-host Jon Alba informing him that Reigns and The Bloodline would be exclusive to "WWE SmackDown" following the recently-concluded WWE Draft. Even as Bischoff remains lukewarm on the idea of a new title, WWE is set to crown the first-ever World Heavyweight Champion at Night of Champions. Seth Rollins has clinched his spot in the tournament final, and will await the winner of the "SmackDown" bracket.