Savio Vega Says He Owes His WWF Career To WWE Hall Of Famer Scott Hall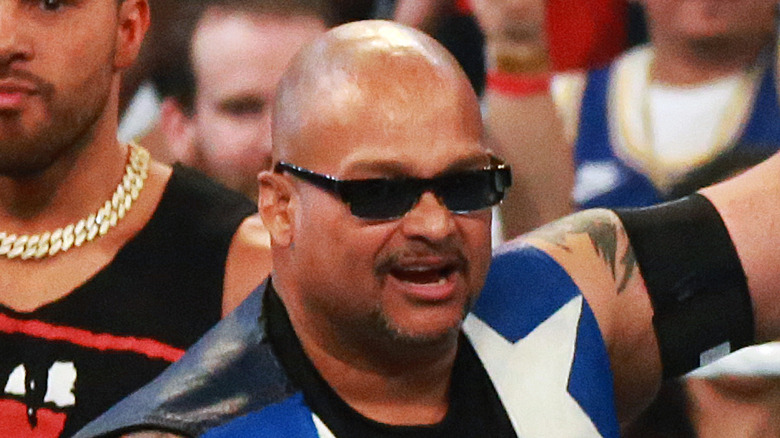 Gladys Vega/Getty Images
While he's had an eventful career around the world, Savio Vega is best known to fans for his time in WWE, including his recent appearance at Backlash. And as it turns out, Vega can give a ton of credit for his WWE success to the late WWE Hall of Famer, Scott Hall.
In an interview with "Ten Count," Vega, who originally met Hall when the later worked in Puerto Rico in the 80s, revealed he was in New Japan Pro-Wrestling when he got in contact with Hall through Bam Bam Bigelow. Hall arranged a tryout for Vega in Syracuse, New York, and was invested enough that he had some pointed criticism for Vega when it was over.
"I did my first match, tryout, and when I come back from the ring, Scott was waiting for me in the back and chopped me," Vega said. "As soon as I walked in, he chopped me, hard. I look at him and say 'What was it?' He says 'What the hell is that?' I say 'What do you mean?' 'Where's the TNT that kicked my ass in Puerto Rico? Where is that TNT?'
"I said 'Well, I just wanted...I don't want to be tough or rough.' He goes 'No, no, no. Bring me that TNT.' I said 'Okay, I will.' He said 'Tomorrow you have another tryout.' I said 'Alright.' So I bring TNT the next day, I did the heel stuff, the kicking, the blah blah blah, whatever. He comes by and says 'That's the TNT I want to see.' I said 'Alright man.'"
If you use quotes in this article, please credit WrestlingNewsCo and provide an h/t to Wrestling Inc. for the transcription