Booker T Comments On Rumors Of Drew McIntyre Potentially Leaving WWE In 2024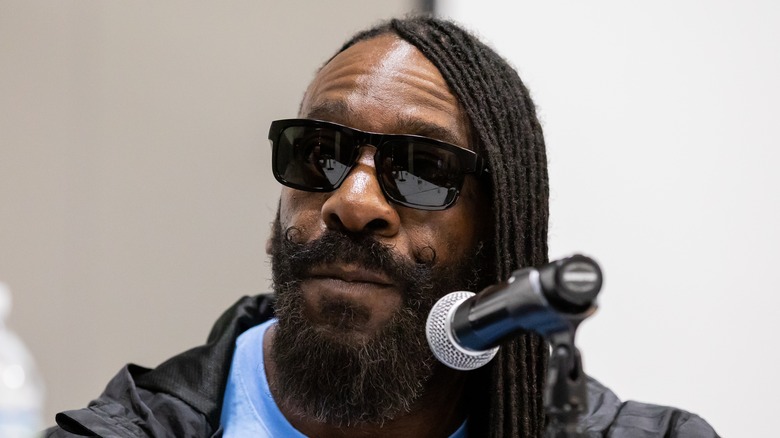 Brandon Nagy/Shutterstock
Booker T thinks there's something fishy about Drew McIntyre not being in the tournament to crown the first World Heavyweight Champion. 
"Him not being in this tournament kinda says a little bit of something, right?" Booker asked on "The Hall of Fame" podcast. The topic of Drew's expiring contract, set to run out in 2024, was broached and Booker said that Drew should let his contract run out if he wants out, as that would free him from any kind of non-compete clause.
"This is about guys being able to make money," Booker exclaimed. "I'm not looking for the monopoly in wrestling. I'm not looking to keep a guy, if he don't want to stay." Booker says that McIntyre's recent tenure as the WWE Champion during the pandemic makes him an even more valuable free agent than the last time he was on the independent circuit.
"If a guy wanna leave, let him leave, and Drew McIntyre is a guy that's put in work in WWE, not just once but twice," Booker said, "so he knows what that system is all about." While Booker doesn't know what McIntyre's plans are, he can understand "The Scottish Warrior" getting restless in WWE, as sometimes when one has been in the system for so long, they need a change of scenery.
Booker doesn't think that the former Impact and EVOLVE Champion would have any issue outside of WWE, especially since McIntyre's options were far more limited after his first release in 2014, as McIntyre rejoined WWE before the launch of AEW.
"Any company in the world, he'll be a star," Booker explained. "He can make money anywhere he wants to."