Eric Bischoff Discusses Potential Value (And Challenges) Of A Brand Split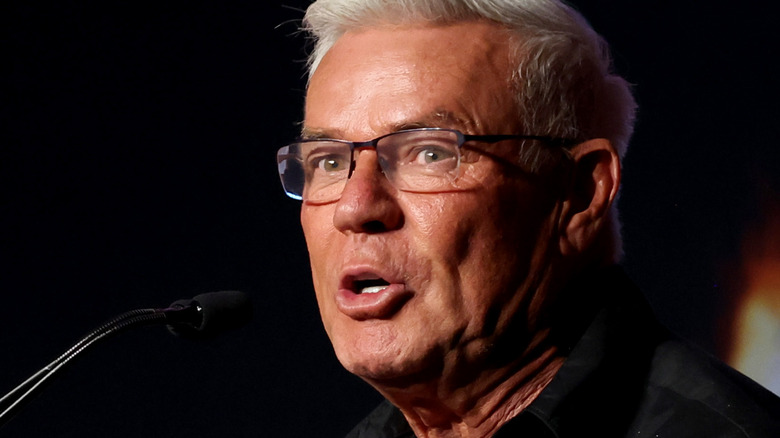 Jason Kempin/Getty Images
The 2023 WWE Draft is in the books, but there are still plenty of questions regarding how WWE will handle certain things in terms of branded championships, where the free agents will land, who will emerge as top stars, and more. During a recent episode of "Strictly Business," Eric Bischoff reflected on the challenges that come with a brand split, especially as it relates to dealing with television networks.
"But it's interesting to say what's the value of the brand split," Bischoff said. "I don't think there's a value in a brand split. I think it's a necessity. You could argue that the value is that you have two distinct brands. Therefore, you have two distinct television licensing opportunities. As in any television show — wrestling is no different — the quality of that show is oftentimes linked directly to the star power on it. In order to have two successful brands when you have two major media companies vying for the rights, bidding for the rights for those brands, the value has to be there."
Bischoff noted that not all talent is created equal, and that's where he thinks it gets tricky. He gave the example of having split rosters set, but then questions will be raised when a star gets hot and the opposite network becomes interested in their star power for the ratings. The WWE Hall of Famer concluded that the biggest challenge with the brand split is keeping the network partners happy.
For what it's worth, Bischoff's issues with brand splits aren't just limited to WWE. He recently said "good luck" when discussing AEW potentially implementing one of their own with the rumored "AEW Collision" show on the horizon.
If you use any quotes from this article, please credit "Strictly Business" with a h/t to Wrestling Inc. for the transcription.