Becky Lynch Doesn't Want Celebrities Getting The WWE Spotlight Real Wrestlers Deserve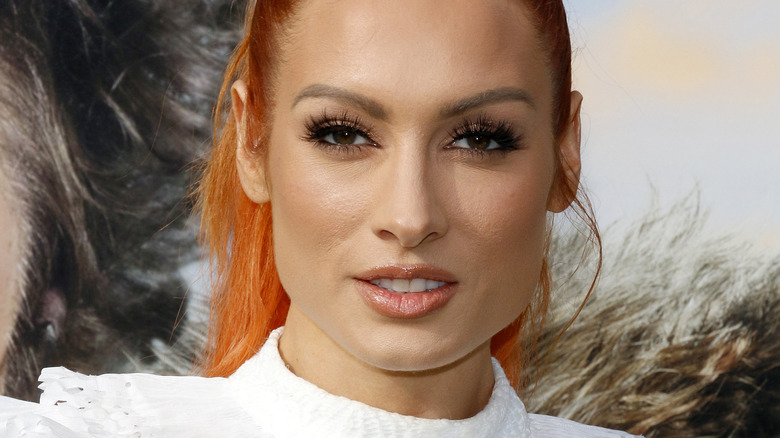 Tinseltown/Shutterstock
Becky Lynch doesn't want to see any more celebrities coming into WWE to boost their own profile. The six-time world champion shared her thoughts on celebrity guests like Logan Paul and Bad Bunny trying their hand at in-ring competition as of late. She told Mark Andrews on the "My Love Letter to Wrestling" podcast that the spotlight instead deserves to stay on pro wrestlers when it comes to what happens inside the squared circle. Days after Bad Bunny made his critically acclaimed singles debut at Backlash, Andrews asked "Big Time Becks" which other celebrities she'd like to see step into the ring. Lynch quickly shot down the question and said she'd rather "see wrestlers come in and wrestle."
"I want to see the people that love this, that work for this, that are there working year-round, making the towns, wrestling four days a week and not being home to see their family, not being able to take vacations because this is a 52 week-a-year gig, and I want them to get more and I want them to wrestle on WrestleMania, that's what I want," Lynch said. "I don't care about the celebrities."
Lynch says she'd welcome celebrity guests who make appearances like Cyndi Lauper, whose WWE appearances included managerial, non-wrestling roles. But for celebrities who want to compete, Lynch warned "you don't do what we do."
"You don't sacrifice like we do for this business," she said, speaking to other celebrities interested in joining WWE. "You just come in for the spotlight. And good for you and thank you for bringing in some eyes, but that's not what this business is built on."
If you use any of the quotes in this article, please credit "My Love Letter to Wrestling" with an h/t to Wrestling Inc. for the transcription.