Rhea Ripley Talks Future Film Prospects, Says It Would Have To Be Action Or Horror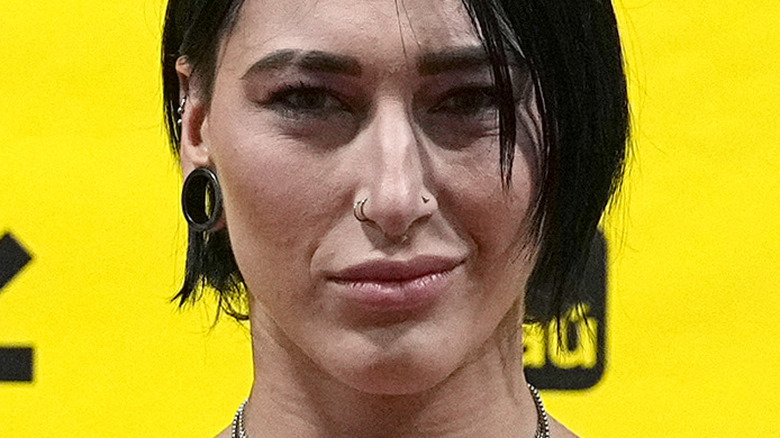 Stephen Olker/Getty Images
With such an inherent risk of injury in their field, many professional wrestlers have begun to set themselves up on an alternate course, just in case. As such, several performers have opted to explore the acting realm for opportunities, whether it be for film, television, Broadway, or even improv. While not fully convinced she'd go down that same route, current "WWE SmackDown" Women's Champion Rhea Ripley is open to the idea at least.
During a recent appearance on the Cheap Heat podcast, Ripley was asked if she had acting aspirations. "I mean, it could be. Quite possibly. I feel like if I were to do a movie, it would have to be like an action or a horror. I don't think I could really do anything else, but I've definitely thought about it," she said.
Ripley noted that she underwent two years of acting classes, and even received a proposal to star in a movie, but due to her hectic work schedule, she had to decline the offer. "I legit would never be home and I'd never get to see my dogs [if I accepted the role], so just I couldn't do it," she explained. While acting isn't a priority for her right now, Ripley said she's open to working on one or two films after her wrestling days are over.
It may be a few years before fans see Ripley in a full-fledged film, but they received a little teaser in the lead-up to WrestleMania 39. As this year's big event was held in Hollywood, WWE began airing parody trailers of popular films and television shows starring several of their top stars. Ahead of her battle against Charlotte Flair, Ripley portrayed the character Eleven in a parody video of the sci-fi horror show known as "Stranger Things."