Jake Roberts Recalls Cody Rhodes Calling Him To Join AEW, First Talk With Tony Khan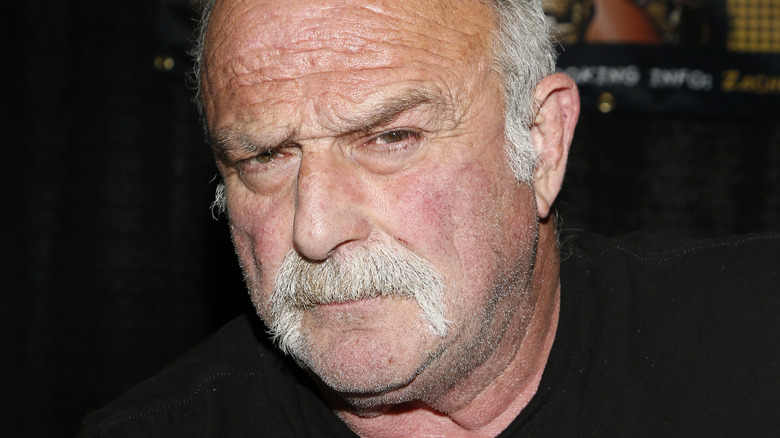 Gabe Ginsberg/Getty Images
It's now been over three years since Jake Roberts first joined AEW as the manager for Lance Archer, appearing even before Archer did by confronting Cody Rhodes on "AEW Dynamite." And Roberts decided to relive the occasion on the latest episode of The Snake Pit podcast, revealing that Diamond Dallas Page, his protege, helped get him the gig. Ultimately, however, it was Cody Rhodes, and not AEW owner Tony Khan, that made the call asking him to join.
"It was Cody Rhodes," Roberts said. "They told me they wanted to put me with Lance. They asked me if I knew him, I said 'No. Don't know him. Don't know him from s**t.' They said 'Well, we want to do these vignettes.' Of course, we did the one that really stuck out, which was filmed at Darby Allin's house, with the ring out in the field. That's awesome stuff."
So when did Roberts actually meet Khan? Not until just prior to his aforementioned promo with Rhodes on Dynamite. Fortunately for Roberts, their first conversations went swimmingly.
"They were awesome, man," Roberts said. "I love talking to Tony. He's such a knowledgeable guy. [He] knows so much about wrestling. He knows more about me than I do. That's true man, that's so true. He can hit you with dates and stuff on me, I'm like 'Holy s**t.'"
As for the promo itself, Roberts revealed that everyone in AEW was quite happy with that first performance and that he had done the whole promo "off the cuff," without any scripting beforehand. Most importantly though, Roberts himself was pleased with how well it all came across.
"I was so happy, so proud," Roberts said. "I had tears in my eyes, 'cause I nailed that son of a b***h."

To quote this article, please credit The Snake Pit and provide an h/t to Wrestling Inc. for the transcription