Saraya Expects Her Brother To One Day Wrestle For AEW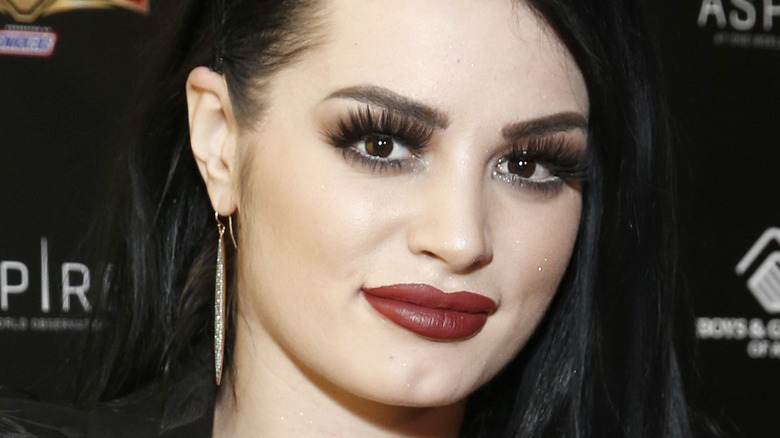 Brian Ach/Getty Images
Last September Saraya, made her AEW debut. Now part of The Outcasts alongside fellow ex-WWE stars Ruby Soho and Toni Storm, the former Divas Champion appears to be finding her footing in the company. And if her recent comments are any indication, it may only be a matter of time until her older brother Zak Bevis — who goes by Zak Knight or Zak Zodiac in World Association of Wrestling — joins her.
"I would want one on my brother Zak," Saraya said on "The Corner Podcast" when talking about "Fighting with My Family," the movie based on her life in pro wrestling, "because I feel that he had such a special story in there too where WWE never gave him the chance. Never."
The movie, released in 2019 and based on the 2012 documentary "The Wrestlers: Fighting with My Family," followed Saraya's career and journey to WWE while also showing her brother Zak fail to make it to the same level. But when Saraya wrestled in her first match for AEW, Zak was with her every step of the way, from training to the match itself. Eventually, she introduced him to AEW President Tony Khan.
"Tony was awesome," Saraya continued. "I was talking to him and I was like, 'Maybe we can get him on a dark match today.'"
Unfortunately, Zak didn't have a work visa at that time, but Khan made it clear that once that changed, there'd be a spot for him.
"He was like, 'Get a visa, you can be on all the dark matches you want,'" Saraya explained. "So, I bought Zak a visa, so it should be here in August sometime."
If you use any quotes from this article, please credit "The Corner Podcast" with an h/t to Wrestling Inc. for the transcription.