Mercedes Mone Provided The Glow Sticks Used In Trinity's Impact Wrestling Debut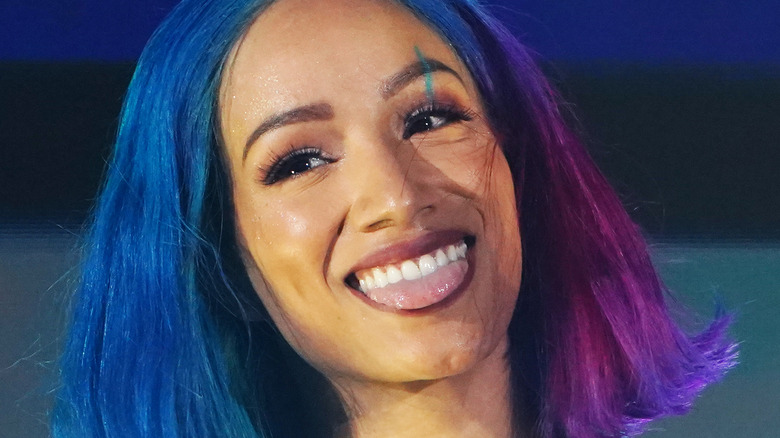 Etsuo Hara/Getty Images
You could say Mercedes Mone had a big impact on Trinity Fatu's recent debut. Fatu made her in-ring debut for Impact Wrestling on Thursday night, and lit up the arena with her entrance, which included complimentary glow sticks given out to fans. The fans appeared like they were having a blast, waving the light-up props along to Fatu's upbeat entrance. And on Friday morning, Fatu revealed on Twitter that Mone, her longtime friend and former WWE coworker, was the one who bought them for the fans.
"Thank you @MercedesVarnado for those," Fatu tweeted with a happy face. Impact floor coordinator Ingrid Insley also confirmed the NJPW star made the contribution for Fatu's debut. "What a friend," the Impact employee tweeted. Mone and Fatu's paths have been intertwined since the duo walked out of WWE last year over a creative dispute. Both women, former world champions, vanished from pro wrestling for many months before rumors began to swirl about each of their returns — but not to WWE.
First, Mone made her widely forecasted debut in NJPW at Wrestle Kingdom 17, later going on to win the newly minted IWGP Women's Championship from KAIRI, another former WWE star. Fatu has been publicly supportive of Mone since she made her debut, and the NJPW star reportedly returned the favor when Fatu recently made her return to the squared circle in the Impact Zone. While the two appear to have a strong friendship in real life, it's not out of the question that fans will see them square off in a match sometime in the near future. Fatu said earlier this month that facing Mone would be a "dream."