Brock Lesnar Squashing John Cena At WWE SummerSlam Was Partially A Steve Austin Idea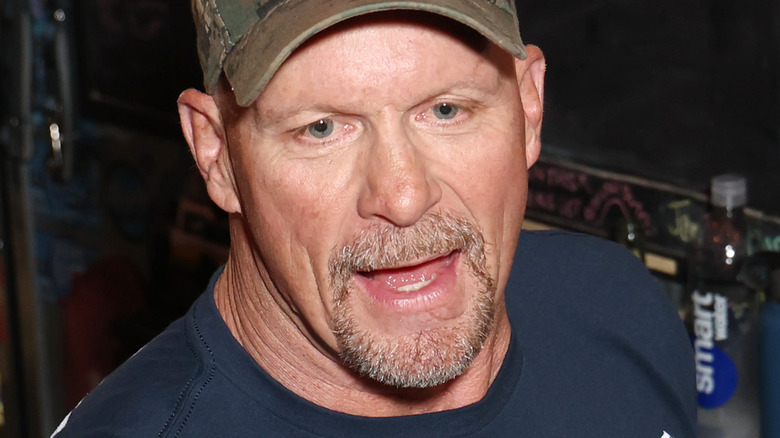 Joe Scarnici/Getty Images
Brock Lesnar suplexing John Cena 16 times at the 2014 SummerSlam PLE remains one of the most dominant and shocking matches in WWE history, but few people are aware that Steve Austin had a partial role to play in making that happen. 
Cena revealed to "NotSam Wrestling" that Lesnar had dinner with Austin before that infamous match, and the two of them came up with the idea for him to suplex Cena non-stop, which he was more than happy to do. While he praised Lesnar as one of the most giving wrestlers when it's his time, that night Cena felt it was crucial that "The Beast Incarnate" looked as dominant as possible.
"I said, 'Yeah,' he said, 'What do you mean?' I was like, 'Well, we both collectively agreed that you just beat the streak, we ruin that if we have a 50-50 match,'" he said. "How do you showcase the enormity of that win? How do we not waste The Undertaker's streak? It's not just Brock winning a match, it's all those matches he had to lead up to losing. If I go out and have a 50-50 match and he just sneaks over, we wasted all that."
Cena learned from Arn Anderson that sometimes it simply isn't your night in the wrestling business, and that was the case when he competed against Lesnar that night. Instead, it was all about protecting Lesnar defeating Undertaker's streak to make it mean more.
"If you take that unbelievable feat, with another unbelievable feat, now we have passed the energy and that is how you make someone," he said. "Then that someone can make others and that's how the business works."

If you use any quotes from this article, please credit "NotSam Wrestling" with a H/T to Wrestling Inc. for the transcription.