Gangrel Discusses Why WWE Nixed Planned European Title Win At Royal Rumble 1999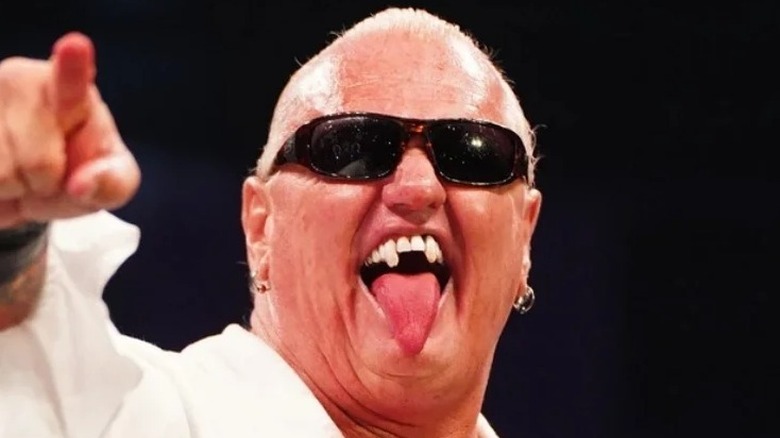 AEW
Gangrel wrestled more than 200 matches for WWE across his various stints with the promotion, but never captured any championship gold. However, the former leader of The Brood was slated to win the European Championship from X-Pac at Royal Rumble 1999, until a backstage incident forced WWE to call an audible. According to Gangrel, he was disciplined by WWE management for allegedly agreeing to sell steroids to a backstage crew member, who conducted a sting operation by interviewing talents on camera. 
"I know for a fact that I was supposed to win the title that night," Gangrel told "The Ten Count." "But there were some disciplinary actions. I was innocent, but I got caught in the middle of some stuff. There was a big scandal where somebody, a backstage guy, was taping people trying to sell him a bunch of steroids. It was this big thing. Everybody had to get disciplined. I happened to be one of the guys in there, even though I didn't do anything and whatnot, but I just got caught up in all that."
Gangrel then admitted he "got caught up in the wrong group," before reiterating that he was "innocent" and therefore "cleared" by WWE management. However, the incident still cost him championship gold. Despite being disciplined for a violation that he wasn't guilty of, Gangrel doesn't feel any animosity towards WWE, and believes he should have been more cognizant of the people he met and greeted with.  In the past, several other wrestlers were sent to the proverbial doghouse for actions that were deemed unbecoming of a WWE superstar. As an example, Triple H was in line to win the 1996 King of the Ring until his involvement in the "Curtain Call" led to him being demoted to the bottom of the card.
If you use any quotes from this article, please credit "The Ten Count" with a h/t to Wrestling Inc. for the transcription.