Hulk Hogan Comments On Roman Reigns, Length Of Current WWE World Title Reign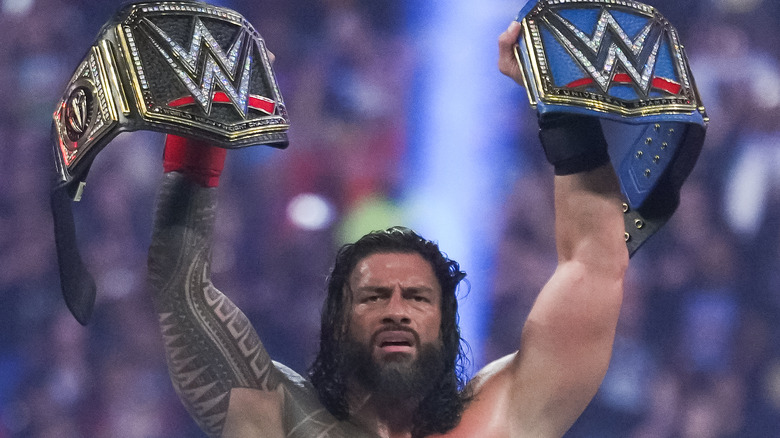 Alex Bierens De Haan/Getty Images
Hulk Hogan is the latest legend to acknowledge "The Tribal Chief" Roman Reigns. While talking to "The MMA Hour", Hogan praised Reigns for mastering the intangible aspects of pro wrestling — such as timing, facial expressions, and in-match storytelling. The subject of Reigns came up when Hogan was asked if the Undisputed WWE Universal Champion had reached his "level" by virtue of being the longest-reigning world champion in three decades.
"He's got it figured out," Hogan said of Reigns. "A lot of people wrestle [for] 20 or 30 years and they don't ever figure it out. I mean, they're smart to the business, but they really never figured it out. He's figured out as far as placement and timing goes, and that slow, methodical cadence when you're in the ring." While Hogan is unsure where he'd place Reigns on Mount Rushmore "as far as the main event wrestler goes," he's convinced that the two would have drawn "some major money" if they wrestled in their physical primes.
"End of the day, if I was in my prime and I walked in with him, I could draw some major money with him," Hogan declared. Earlier in the interview, Hogan admitted that he only watches Reigns, Randy Orton, The Usos, Kevin Owens, and a few other wrestlers, and typically "fast forwards" through most current WWE programming. Reigns, meanwhile, grew up an ardent fan of Bret Hart and was admittedly not a Hulkamaniac in his younger years. However, he did name Hogan in his Mount Rushmore of pro wrestling, citing Hogan's contribution to the business from a financial perspective.
If you use any of the quotes in this article, please credit "The MMA Hour" and provide an h/t to Wrestling Inc. for the transcription.