WWE Storyline Injury Update On Cody Rhodes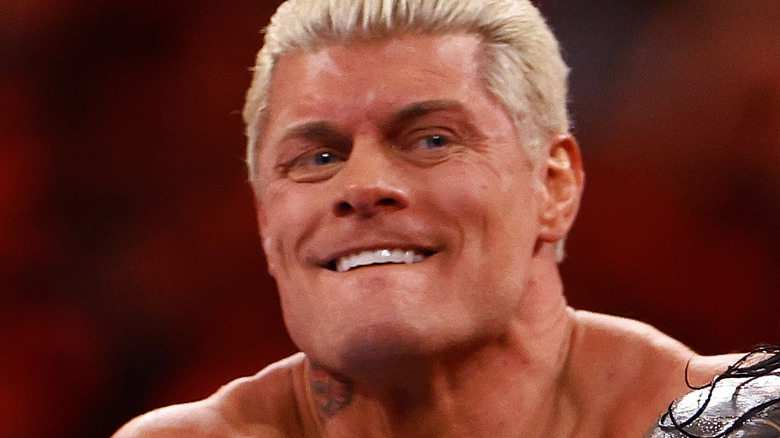 Ronald Martinez/Getty Images
Ahead of WWE Night of Champions, a media event was held on Friday as several top WWE stars appeared before a raucous crowd in Jeddah to hype up their matches. During Cody Rhodes' appearance, it was announced that he suffered a (storyline) broken arm during Brock Lesnar's brutal attacks on the May 22 episode of "WWE Raw." Despite the injury, Rhodes is still slated to battle Lesnar on Saturday afternoon.
When asked by Michael Cole why Rhodes will still compete, Triple H responded, "You're right, Cody does have a broken arm, obviously. Not the best situation in the world. I don't know if it's the smartest decision in the world. But here's the thing, Brock Lesnar wants to fight. Cody Rhodes wants to fight. Do you want to see them fight? Then tomorrow, in this dome, they are going to fight."
This will mark the second match between "The American Nightmare" and "The Beast" as Rhodes was able to pull out the victory in the main event of WWE Backlash earlier this month. The match ran just short of 10 minutes, but featured Lesnar donning the crimson mask to add to the drama of their first-time encounter. While Rhodes was locked in the Kimura lock, he stacked on top of Lesnar for the three-count.
Obviously, Lesnar was not satisfied with his loss and has continued to attack Rhodes in the weeks since. On May 8, Lesnar screwed Rhodes out of his shot at advancing in the WWE World Heavyweight Championship tournament. Lesnar issued a challenge for a rematch in Saudi Arabia, which Rhodes happily accepted on May 15. Then the latest "Raw" saw Lesnar and Rhodes brawl twice — once backstage and then later all over the ringside area, which further injured Rhodes' left arm.
If you use any quotes from this article, please credit WWE with a h/t to Wrestling Inc. for the transcription.