Orange Cassidy On AEW DON Title Defense, How He Got Jane In AEW & More - Exclusive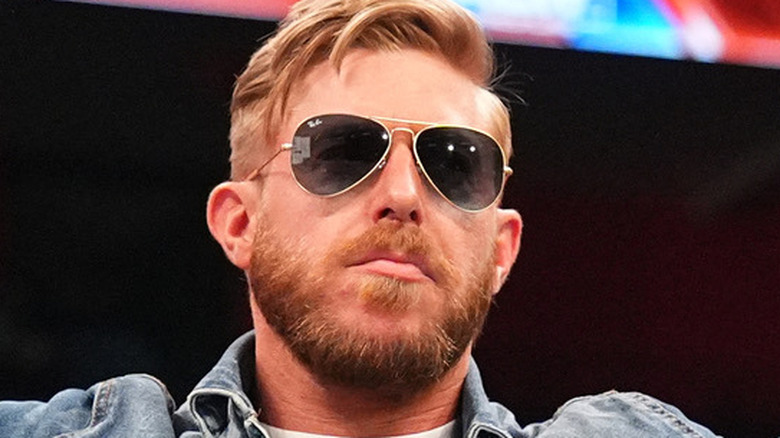 AEW
In a conversation with Wrestling Inc.'s Jack Farmer, AEW International Champion Orange Cassidy delves into his journey as a reigning champion, his upcoming defense at Double or Nothing in the Blackjack Battle Royale, and more. The typically laid-back wrestler confronts the physical toll of his time as champion, revealing the aches and pains behind his nonchalant exterior. He discusses his unexpected path to the championship, highlighting the constant challenge of maintaining his title and his decision to face contenders irrespective of rankings. 
This interview offers a rare glimpse into Cassidy's mentality, exploring his relationship with music, his enduring camaraderie with the Best Friends, and how he feels about no longer being the champion of the Atlantic Ocean. As he prepares for his most significant championship defense yet, Orange Cassidy proves once again why he's not just an entertainer, but a formidable champion. Read on for an exclusive peek behind the sunglasses of AEW's International Champion.
Orange Cassidy Reveals the Toll of Being AEW International Champion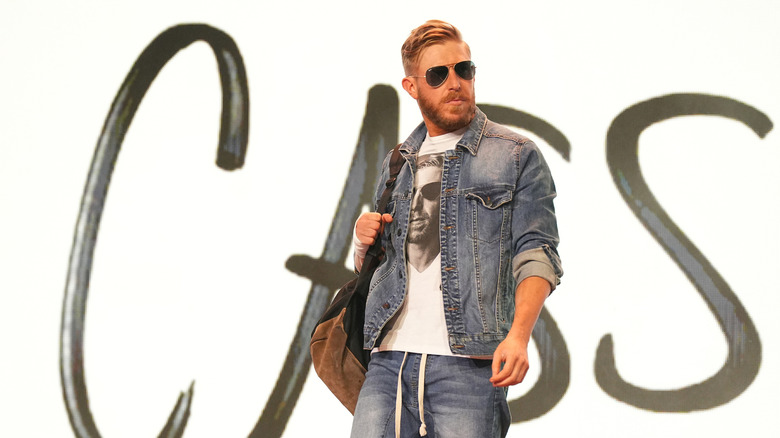 AEW
Jack Farmer: Ah Yes. Ladies and gentlemen my name is Jack Farmer, here at Wrestling Inc., and I am chatting with none other than the AEW International Champion, Orange Cassidy, ahead of his big championship defense at Double or Nothing at the T-Mobile Arena in Las Vegas. Orange, how are you doing today?
Orange Cassidy: I'm very sore. My back hurts. My neck hurts. I think I have a black eye. I don't know if you can see it. I don't know if you can see it.
You got a shiner there. That's from Dynamite?
Yeah, this Australian boy really beat me up...Should I grab the belt...I should probably have it.
Yeah, let's get the belt. Let's see that beautiful International AEW Championship...I'm guessing you're going to go grab it out of that JanSport backpack. While you're getting it there, I just want to say, JanSport needs to be sending you some sponsorship bucks for carrying around the Championship in that thing.
I don't think they care about me.
Well, they should. You're promoting them, Orange.
I mean, it's the same backpack I had when I was in elementary school, so there it is.
Look at that beautiful Championship. For my dollar, one of the best looking championships out there in pro wrestling.
It's very heavy, which is why I keep it in a backpack. It goes with me everywhere.

It's a beautiful Championship, and as mentioned, you had a very incredible championship defense on AEW Dynamite earlier this week, and you look to continue those defenses. But I want to ask you a little bit about that championship now. I saw an old interview, I did some research before this one, and you were talking to Sportskeeda back when it was called the All Atlantic Championship. And when you had it, you said you owned the Atlantic Ocean. Now that it's not the Atlantic Ocean anymore, are you no longer the king of the Atlantic? What happened with that? Did you just give it up?
I know, I'm still bummed about that because I was king of the Atlantic Ocean and now they changed the International Title, so I guess maybe I'm just king of all international waters.
But still liquid, you still got the liquid side of the planet? I mean, take that Aquaman, right?
Yes. Yeah, screw that. I'm the king.
The Music of Orange Cassidy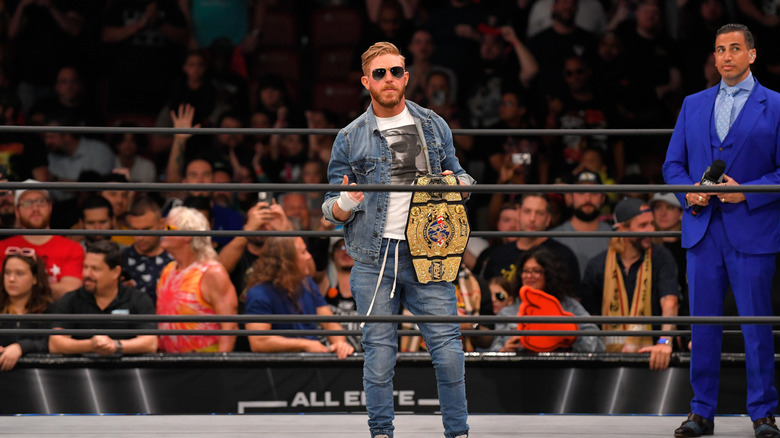 AEW
Jack Farmer: Speaking of king, I wanted to talk with you briefly before we get into Double or Nothing, this is a question that's been rattling around in my brain for a long time. I chatted with none other than Eddie Kingston a few months back on another show, and he said that you are a big fan of Scarface. And so I got to ask, what's your favorite Scarface song?
Orange Cassidy: Eddie and I used to travel together and he would play this one album over and over and over again, and I don't even know the names of the songs because he never told me what they were. Listened with him all the time and I loved it. I like it all. I like all Scarface.
All Scarface. Are you a rap fan? Do you like a lot of rap in general or is it just Scarface?
I listen to anything that's on.
It makes sense. You've had a couple of different entrance themes in your time in AEW already, so it makes sense that you've got a wide variety of music that you like. What was it like getting Jane, by the way, to be your entrance theme now? How did that feel getting that track back?
There are things that happen in my career that I never thought would happen. Because AEW was so great, Tony Khan has been specifically, but AEW... I wanted "Jane" for a very long time, and they said, "No." So then Tony was like, "Well, we're still going to get you something." And he came up with the idea of the Pixies song and I loved it. So he got that. Guess who called a few months after I started using the Pixies, it was Jefferson Starship. Their company, that whatever, that they reached out to were like, "Okay, well we can work out a deal now." And it's like, "Oh." ...and then we eventually got back and it's the best. I am so very, very, very fortunate.
That had to be just incredible to have them calling to do music for you instead of the other way around at that point.
It was one of those things where it's like, "Oh, this guy on AEW, on these wrestling shows, Pixies, and it's doing great, and pitch..." And it's like, "Well, now you know."
Shaping an Identity for AEW's International Championship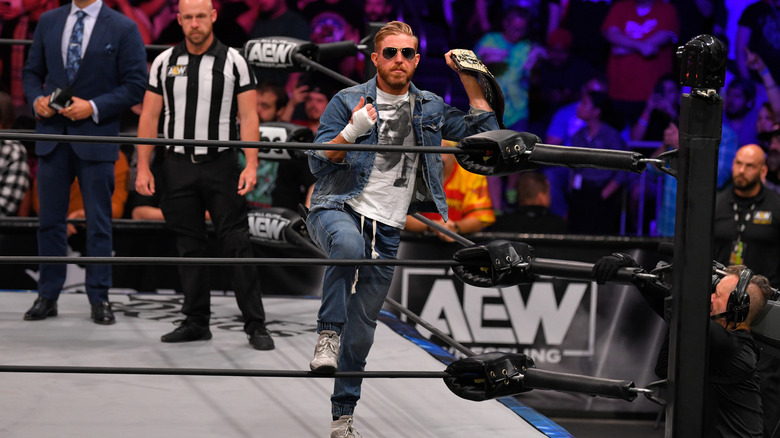 AEW
Jack Farmer: So I do want to talk a bit about that Championship and the actual defenses. Something about you being the champion and having that Championship, it's become pretty much every single week you put the title on the line no matter how much you're getting beat up. You talked about how sore you were at the start of this interview, but you're still putting it on the line over and over again and it's really given what, at least in my opinion, a identity to that Championship. When you became the champion, was it something that you said to Tony Khan or whoever said, "Hey, I want to be the guy that's out here defending this all the time." Did they come to you with it? Whose idea was it to have you out there every single week defending that title?
Orange Cassidy: I'll tell you what wasn't my idea to get beat up every single week and defend this thing. When I got the All Atlantic Championship in October, the idea was just really to beat Pac, and just finally get that win over him. And along with it came the All Atlantic Championship and I didn't really know what this title meant. I didn't know what it was for. I didn't really understand... It didn't have an identity really, but it did have a lineage already of Pac who is obviously one of the best wrestlers in the world.
To live up to that, I ain't got nothing to prove to anybody. I'm going to do what I'm going to do. It's going to be what I want to do. But when I had the Independent Wrestling Championship early in my career on the Indies, I had this philosophy of, if you want a shot, I'll give it to you. And I think I wanted to use this as a tool to get people on television that you normally wouldn't see on television. Maybe somebody that works really, really hard that deserves a title shot. And I decided to make this title the belt that everybody else who wasn't ranked number one could go after and show different styles, show different wrestling, show the wide variety of fantastic talent that AEW has. It's just unfortunate that I'll have to punch them all in the face to win this back. It was something I stumbled upon. I didn't really set out to do that, it just what happened.
Facing The Odds At Double Or Nothing
AEW
Jack Farmer: You're going to have to do a lot of punching this weekend at Double or Nothing. This is going to be the biggest championship defense you've ever had. The biggest championship defense for the International Championship. And I don't say that as hyperbole, but literally it's the biggest. You're going to be facing 20 other people to try to retain that Championship. I think this match has become something that a lot of AEW fans look forward to every single year. Something that I think a lot of people consider, can't miss. But you do know the odds are against you this weekend, right?
Orange Cassidy: So like we said before, I'm very sore, I'm very tired. And every single week I got somebody punch me in the back of the head while I'm doing an interview or somebody jumping me from the ring, because they want a shot. Someone always wants an opportunity. And I was like, "Alright, let's just get them all out of the way. Let's just chip away at that list." Now, hopefully no one will come after me after I beat them all on Sunday, but you and I both know that's not going to happen. But I just really wanted to try to get as many in there and out of there as I can.
Now I'm looking at the list of people who are in this matchup, and you've got some pals in there, the Best Friends. I haven't seen you hanging out with them on Dynamite quite as much as you used to. Are you worried that maybe the guys that used to be your friends might be the next to try to punch you in the back of the head?
I didn't think about that until you just said it. But no, we hang out all the time. We hung out last night. Trent and I gambled some money in a slot machine. So like I said, this is an equal opportunity championship. Whoever wants the shot, gets a shot. And I mean, I've wrestled Trent before for it...Chuckie for it. Bandido, obviously wrestled him before for it. So, why not? They're my friends.
I do know that you've got to get going. You're a busy man, but you're going to be defending that Championship against a whole bunch of people as mentioned, like Bandido, Kommander, your Best Friends, the Lucha Brothers, Swerve Strickland, and many, many more. So you've got that lined up. You've also got potentially more time to be defending that Championship with Collision, coming up down the road and you're in a video game. You're a super busy guy. Before we go, last question, what's next for Orange Cassidy?
I'm probably going to take a nap and then eat some food. But I don't know. I'm going to keep doing whatever I have to do to keep this championship in my backpack.
All right, well good luck to you again, it's in Vegas. So I got to admit, I can't say the odds are in your favor, but you've proved me wrong in the past. Good luck this weekend at Double or Nothing from the T-Mobile Arena. Everyone should make sure to check it out. It's going to be a good one. Orange Cassidy, thank you.
Thank you. I'm going to go lay down.
---
Wrestling Inc. will have live coverage of AEW Double Or Nothing this Sunday. Make sure to check back for live coverage of the show, as well as all the latest news leading into the event